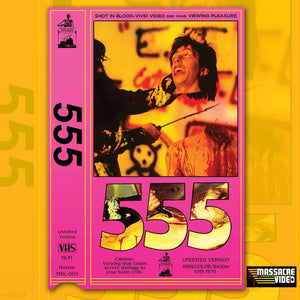 MASSACRE VIDEO Brings 555 Back to VHS in a Limited Edition Slipcase Release! Clickity-click for PRE-ORDER Info!
Massacre Video is a name synonymous with cult film celebration and VHS appreciation. Their righteous rewind-inclined re-animations focus on the vast scope of outsider cinema with the resurrection of Chester N. Turner's incredible and much-coveted shot-on-video films Black Devil Doll from Hell and Tales from the Quadead Zone being their most lauded among the VHS / cult film collector world. But it was Wally Koz's 1988 shot-on-video splatter flick 555 that sparked their now-expansive line of killer cult film releases, and now, Massacre is bringing its initial offering back to limited edition analog. Tonight (9/21/2016), at 6PM EST exclusively on www.Massacre.video, the pre-order for the limited 555 VHS begins. Housed in a full-color slipcase (just like those glory days!) this limited edition will be pressed on classic black VHS, and as special bonus celebrating the release, 50 random orders will receive a radical 555 poster! Cross your fingers, Videovores! CLICK HERE to grab that slab! The pre-orders are slated to begin shipping in early October.
A preview of the full-color slipcase that will house the upcoming 555 VHS from Massacre Video. GO GET IT, TAPEHEADS!
The 555 VHS slipcase re-issue will also be appearing in select rewind-inclined retailers including the gargantuanly cool Grindhouse Video in Tampa, FL, with more indie stores to come. There is also talk about this VHS release making its way into larger distributors sometime in the future, which would mean there would be a brand spankin' new VHS release on a chain store's shelves in 2016. And that's pretty groovy, man. We'll just have to wait and VHSee, Tapeheads!
Until then, be sure to groove on over to www.Massacre.video today at 6PM EST to reserve this radical slab of absolutely essential shot-on-video splatter. You need this bad boy. Oh, and it's also coming back to DVD, ya know, if you dig that sort of thing.
Groove and Groove and THINK PINK.
Josh Schafer
---