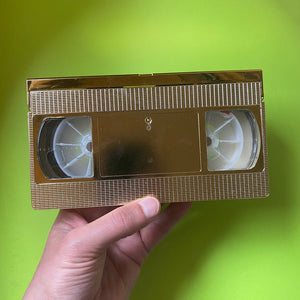 5 Rare and Unusual VHS Stock Variants That'll Rewind Your Mind
By Josh Schafer
Through our many years of roaming and rummaging through the vast rewind-inclined world, we've uncovered some truly radical slabs of VHS stock variants. We thought it proper to VHShare some of our favorites with you, Tapeheads! Here are five of the most fantastic VHSpecimens we've come across. Let's press play!
SCOTCH JUST FOR KIDS
If you're looking for the most wacky, fun and wonderfully ridiculous VHS blank ever created, this has our vote, Tapeheads. These Scotch Just For Kids videocassettes are strikingly unique, and were engineered to help kids use videotapes with ease. These JFK tapes were stated to be remarkably durable (over 250 playbacks!) and supplemented with a sticker sheet for some extracurricular excitement while decorating the tape. Pictured here is a sealed copy of the Just for Kids blank, along with the unwrapped case, stickers, and videocassette itself. The Videovores who've been hangin' loose in Lunchmeat Land for a while may recall when we released MAGNIFICENT KABOOM (a cartoon that is NOT for kids) on these very blanks!
SCOTCH COLLECTIONS TAPE
This Scotch (who advertise being the inventors of videotape – check the back of this tape and the Just For Kids packaging) videocassette variant while not "rare" per se, deserves a spot on this list if only for it's incredible attention to detail, unusual body style and coloring, and how it leans into the collector mentality. The main attraction? This High Grade videocassette provided 'theater quality" recordings, even in EP (extended play) mode. One particularly useful and interesting aspect of this tape is the Save / Record switch: think of it as a safety lock for a videotape. Switch it on, and it would prevent any accidental recording over  previous material.
It also came with a window gauge to let you know how much time was left to record on the videocassette and assisted you in locating a recording on the tape. These Collections Tape variants came in different runtimes, and were marketed toward serious recorders of video, when quality was key. But if you wanted to go completely pro, you could also reach for Scotch's Archive Tape variant, which is advertised on the back of this packaging. Here you'll see the full packaging for the Collections Tape, along with the case, videocassette, stickers, and literature explaining the functions.
U.S. GOVERNMENT BLANK VIDEOCASSETTE 
Did you know even the U.S. Government had its own videocassette blanks? They did, and here's proof. Created by Fleetwood Video Corporation, these were for official use only, and provided labels both for "investigation" and "standard" recordings. Though the actual blank is a plain Maxell T-120, the packaging on this is both rare and unusual – a perfect fit! Many thanks to @deadmediajunkies on Instagram for gifting us with this radically odd and intriguing slab!
TEAC TRANSLUCENT (and translucent tapes in general)
One style of tape stock that always wows the rewind-inclined mind is the translucent videocassette. We've exemplified these tapes across the history of LUNCHMEAT with this coke bottle green blank from SPARTAN as posted on our Instagram, and we've also released a few translucent tapes like the totally clear variant of the now sold out GHOST STORIES, and this JVC CLEAR blue videocassette for a now long out-of-print run of the URBAN DECAY / WAV skate tape from Dylan Hughes. You can see other versions of translucent VHS tapes by searching out JVC CLEAR and J'Collection, but they are becoming increasingly scarce due to collectors gobbling them up. You can also get a glimpse of some absolutely radical clear videocassette spool swaps by checking out this post on our Instagram featuring the home video handiwork of @retro_truckr.
But the one image that seems to titillate almost every Tapehead is this image of what seems to be blacklight reactive tape stock from a company called TEAC.
We've posted it in the past, but with our most recent post, we were informed by @videokegger that these TEAC blanks come from Australia, and were apparently a cheaper alternative to standard banks. Here's a look at those same TEAC translucent blanks in the packaging. You can VHSee that below!
GOLD VIDEOCASSETTE
We've posted this one in the past and many people thought it was spray-painted, but we give you our rewind word that it's not! The best way we can describe this one is think of the gold LEGEND OF ZELDA NES cartridge – it's pretty much like that. There are no manufacturing details or dates on this one, so its origin is totally unknown. We traded for a handful of these many rewinds ago with our home video homie Kenny from Bumlife Vintage, and we recall him saying he found them in a thrift store. Huge VHShoutout to our boy Kenny for always being a VHSolid Gold dude. You rule, man.
There are plenty more weird, wild and radical types of VHS stock out there… but what's YOUR favorite?! VHShout it out in the comments below, Videovores! The VHSearch shall never cease!
---