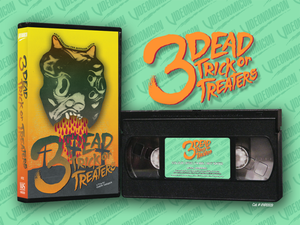 VIDEONOMICON Brings the Torin Langen Horror Anthology 3 DEAD TRICK OR TREATERS to Limited Edition VHS! Official Trailer and Pre-Order Details!
The VHS vindicating crew at Videonomicon has certainly submitted their share of radical rewind re-animations since their inception, Tapeheads. Releases such as Ron Switzer's mind-melter SCIENCE CRAZED and the first official North American VHS release of OGROFF aka THE MAD MUTILATOR are just a couple examples from their impressive selection of fresh VHS. And, true to their Tapehead form, they're gearing up to release another outstanding slab of limited edition magnetic magic, this time taking shape with fellow Canadian Torin Langen's wordless, sinister and visually sumptuous Halloween-themed horror anthology 3 Dead Trick or Treaters. And we've got all the sweet and sticky details for you here in Lunchmeat Land, straight from the source. But first, how about a look at the official 3DTOT trailer for a taste of Langen's latest offering…
Here's the official rewind word from Videonomicon:
Videonomicon asks you to take off your mask, pick up that candy, and get ready for a Halloween-themed horror anthology unlike anything you've seen before! After stumbling upon the graves of three murdered trick or treaters, a small town paperboy discovers a series of handwritten horror stories tacked to the children's headstones. Penned by a deranged pulp author driven mad by his craft, the stories chronicle grisly tales of Halloween rites, rituals, and traditions. Absent of dialogue and heavy on atmosphere, Torin Langen's 3 DEAD TRICK OR TREATERS is an engrossing visual feast that turns the genre on its head and offers terror and suspense amongst the blood and candy corn! The exclusive VHS release is limited to 25 hand-numbered copies on black VHS with one randomly inserted Halloween orange VHS tape! This limited edition VHS also includes BONUS "Walrus - Close My Eyes" music video from director Torin Langen as well as the original trailer following the feature and liner notes from Videonomicon's Tyler Baptist. Release date is this Halloween - Tuesday October 31st, 2017 - with pre-orders going live a few days before on Friday, October 27th at 10AM CST.
The limited edition VHS of 3 Dead Trick or Treaters from Torin Langen and VIDEONOMICON lookin' VHSweet, Tapeheads! Who's gonna get that orange slab?! Maybe... YOU!
Wait a minute… that's not far off! So set a rewind reminder, Videovores, and this Friday the 27th at 10AM CST, groove your caboose to the official Videonomicon site and secure this radical Halloween-soaked slab before you can't, man! Snatch it up by clicking HERE!
Groove and Groove and I'm in a Candy for Dinner Kind of Mood.
Josh Schafer
---