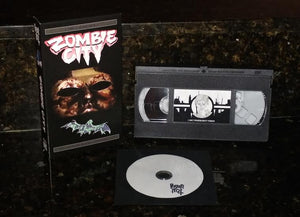 POSER ROT VIDEO Unleashes Shot On Video Carl J. Sukenick Film ZOMBIE CITY on Limited Edition Fresh VHS!
The films of ultimate outsider shot-on-video filmmaker Carl J. Sukenick are just about as mind-melting as they come, Tapeheads. His personal brand of sometimes incoherent, sometimes inane but forever fascinating SOV insanity has been championed by some of the most influential entities within the fresh VHS world, including Massacre Video, SRS Cinema, Horror Boobs and Saturn's Core Audio and Video. But the rewind-inclined warriors at Poser Rot Video are expressly dedicated to unleashing unseen slabs of Carl's work, thus far exclusively handling previously unreleased Sukenick material. And their newest offering from Carl, a brain-bending zombie epic called Zombie City, will be up for grabs today (Sept. 22nd 2017) at 9AM PST via their official webstore.
A look at the front and back art for ZOMBIE CITY from Poser Rot Video. Dig that sexy slipcase, Tapeheads.
Here are all the official details, directly from the Poser Rot crew: CARL J. SUKENICK'S: ZOMBIE CITY VHS SLIP BOX + DVD COMBO A Zombie cult classic! Watch Carl's ingenious unveil while reminiscing about his favorite movie in Zombie City. Join Carl as he tries to save us from a zombie takeover and possibly our total annihilation. Will Carl save us or will he be the last man on earth to repopulate the planet? Find out and see if you can survive in Zombie City!! Starring Debbie Rochon, Sabrina Peaches, Joe Franklin and Killer Zombies. This film is Uncut & 18+ Only! VHS: 25 Edition Pro Printed Slip Box DVD: First 15 Orders Only Running Time: 114 minutes 
Video Pro-dubbed by Rod Lanham
The full package for ZOMBIE CITY from Poser Rot Video! Grab it HERE.
Only 25 slabs, Tapeheads! That ain't many, so you best groove to the Poser Rot store and grab this slab of Sukenick madness that will undoubtedly boogie woogie on your brain! Poser Rot is decidedly dedicated to celebrating Sukenick, and they plan on releasing more of his work in in 2018 with a two volume collection of his early 16MM, 8MM and Super 8 work tentatively titled Super Kill Radiation 1 & 2, but they also have some other radical rewind-minded projects lined up outside of the Sukenick sphere, so stay tuned for that, dudes. So what are you waiting for, Videovores? Click this here hot link, get your ticket to Zombie City, and hang loose with Mayor Sukenick!
Groove and Groove and Make a Movie in Your Backyard.
Josh Schafer
---