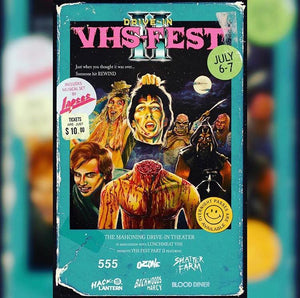 Mahoning Drive-In Theater and Lunchmeat VHS Proudly Present DRIVE-IN VHS FEST II on July 6th and 7th 2018! Poster Art Revealed! PLUS! TICKET INFO AND EVENT DETAILS!
It's almost here, Tapeheads! In just about a week's time, on July 6th and 7th 2018, Drive-in VHS-Fest returns! The Mahoning Drive-In Theater and Lunchmeat VHS are absolutely VHStoked to bring you 2 days and nights jam-packed with mind-bending movies, VHS-lovin' vendors, groovy games, radical music, killer contests, and so much more! Come and feast your eyes on some of the rarest VHS titles and home video horror hits up on the big… Big… BIG SCREEN! That's right: we're running ACTUAL VHS TAPES at one of the largest drive-in theaters in the nation!
The sick nasty official poster art from the one and only Hayden Hall AKA Sick Slice Cinema! This will be epic, Tapeheads. TICKETS AVAILABLE HERE.
Admission is just $10 per day, and an overnight pass is $10 per car! Cheap thrills, dudes! Dig it! GRAB YOUR TICKETS BY CLICKING THIS HERE HOT, HOT, HOT LINK! This year's DRIVE-IN VHS FEST II line-up is as follows: FRIDAY: 555 (1988) Ozone (1995) Splatter Farm (1987) SATURDAY: Hack-O-Lantern (1988) Backwoods Marcy (1999) Blood Diner (1987) In addition to these insano awesome VHScreenings, Mahoning will also be hosting a VHS and cult cinema flea market both evenings before the show! Come early, score some groovy goodies, and mingle fellow fervent Tapeheads!
Mahoning Drive-In will be accepting vendor applications until JULY 1st! You can shoot a request over to VENDMAHONING@gmail.com and they will forward you their official vendor application! Vendors will get 1 free ticket and overnight pass – making the vendor space one heck of a deal, dude! HUGE ANNOUNCEMENTS on special appearances will continue to roll out as we approach the event, so stay tuned to LUNCHMEAT and MAHONING DRIVE-IN THEATER for all the groovy details! Trust us: these updates are going to RULE.
Score your tickets with this link right here: www.ticketfly.com/venue/21329-the-mahoning-drive-in-theater/ And be sure to VHShare this event with all of your rewind-inclined friends and fam! LINK HERE: https://www.facebook.com/events/365715390601809/?ti=icl And as always, LUNCHMEAT will be in attendance with a few too groovy VHSurprises and copies of the brand spankin' new issue: LUNCHMEAT #9! This is going to be one insanely radical time, dudes. Don't miss it.
Groove and Groove and Let's Party, Dudes!
Josh Schafer
---