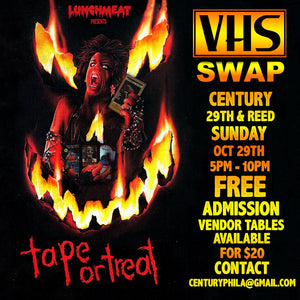 LUNCHMEAT Proudly Presents: The TAPE OR TREAT VHS SWAP at Century Bar in South Philadelphia on Sunday Oct 29th! Exclusive LUNCHMEAT VHS Releases and Other VHSurprises!
The Halloween VHSeason quickly approaches, Tapeheads, and if you're in the Philadelphia area and looking for one rewind radical time on Halloween weekend 2017, we've got you covered, dude. LUNCHMEAT is proud to present the TAPE OR TREAT VHS SWAP at Century Bar located at the corner of 29th and Reed streets in South Philly! Groove on through and bask in an avalanche of absolutely spectacular VHS overload, driven by a small army of vendors spilling forth a mind-bending medley of VHS and related rewind-inclined wares, all up for trade or sale! That's right: trade! Bring a bag or box of some slabs you wanna switch out, and slap some new additions down on your watch stack! Who wouldn't want that?! The party starts at 5PM on Sunday October, 29th and admission is FREE! Nada! Zip! Zilch! Just show up, and you're in, bud! And there will plenty of brews and booze flowing throughout the evening, with LUNCHMEAT providing some radical snacks and sweets as a special Halloween treat!
The Official TAPE OR TREAT VHS SWAP Poster! Sammi's got some serious slabs for trade, man!
LUNCHMEAT will also have a very special limited edition VHS release produced exclusively for this event, limited to just 13 VHSpooky copies! We can't give it away just yet, but we'll give you one hint: Gary Cohen of Video Violence fame is involved with it! PLUS! Another secret slab will be up for grabs, exclusive to this event! All this and lots of other VHSurprises will be unleashed on this most magnificent evening, including a surprise screening of one of LUNCHMEAT's favorite flicks! Yeah, that's a secret, too! Trust us: you'll dig it deep, dudes.
Another version of the poster that'll fit all yer VHSocial media needs, man! Share it and bring the party!
You can visit the
Official TAPE OR TREAT VHS SWAP event page via Facebook,
and if you're looking to become a vendor, we do have a few spaces left, but you gotta act fast! Contact Century at
CenturyPhila@Gmail.com
to request a vendor spot for just 20 bones, man!
Hope to VHSee you there, Tapeheads! It's gonna be one wild rewind night!
Groove and Groove and After the Party It's the AfterParty.
Josh Schafer
---