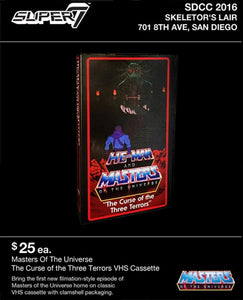 SUPER7 Brings Brand New HE-MAN AND THE MASTERS OF THE UNIVERSE Cartoon to VHS for San Diego Comic Con!
The reach of the VHS resurgence has now entered the realm of mainstream animation properties, Tapeheads. The rewind-inclined nostalgia junkies over at Super7 who are known for creating vinyl toys, action figures and various apparel for all kinds of essential 80s excellence are now bringing a brand-new, Filmation-Style episode of He-Man and the MOTU to fresh VHS! The new episode "The Curse of the Three Terrors" is presented by Super7 and will be screening tonight (7/20/16) as a part of San Diego Comic Con. You can get a glimpse at the new cartoon with details on the screening via the official trailer from Super7, viewable below!
The VHS is being advertised as being exclusively available at "Skeletor's Lair" which we can only assume is an apt code name for the Super7 booth / set-up at SDCC. No word just yet if the VHS will be made available online after the convention, but the hope from MOTU fans with working VCRs is evident, man.
MOTU is back in analog action, man! You know we can dig it.
If you're going to be at SDCC 2016, you'll be able to grab this brand-spankin' new slab of He-Man on magnetic magic for 25 bones. If not, the best thing to do is to stay tuned to the
Super7 site
and
Instagram,
and wait until those leftovers (if there are any!) pop up for sale online. Here's one Videovore hoping they can spare some for those of us unable to attend this year's SDCC festivities. Super7, if you're reading this, please make some available after the convention. YOU HAVE THE POWEEEERRRRRRR!!!
Groove and Groove and Prince Adam Approves.
Josh Schafer
---