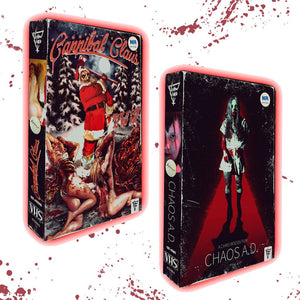 THE SLEAZE BOX and VULTRA VIDEO Bring CHAOS A. D. and CANNIBAL CLAUS to Fresh VHS!
Hey-yo, Tapeheads! Here's a heads up on some fresh VHS created via a collaborative effort from the fiends at The Sleaze Box and those video-vindicating dudes over at Vultra Video! They've cooked up a couple slabs of analog glory just oozing with low-budget sleaze to help appease your grimy cinema needs. The first of this foul combo is CHAOS A.D. which by the looks of the trailer, promises to offer a slippery, sordid neon-lit world populated by blood-spattered captives tortured by some sadistic creeps in Halloween costumes. The second feature CANNIBAL CLAUS features a grimy old dude (Bob Glazier) with an interest in chopping up naked chicks coupled with a driving taste for flesh. This one seems to offer up snappy, sarcastic one-liners aplenty complementing the gobs of gore with some classic tongue-in-cheek black comedy. But don't take our rewind word for it, Tapeheads! You can check out the official trailers for CHAOS A.D. and CANNIBAL CLAUS on The Sleaze Box website.
A peek at the art for the VHS editions of CANNIBAL CLAUS and CHAOS A.D from The Sleaze Box and Vultra! Santa's slayin' it, duder.
These fresh VHS editions come housed in large black clamshells with full-color artwork and are exclusively available via The Sleaze Box website for just 20 bones plus shipping. Clickity-click this here hotlink and grab those slabs and get your VCR all greazed-up, Tapeheads!
Groove and Groove and Filth is Fun!
Josh Schafer
---