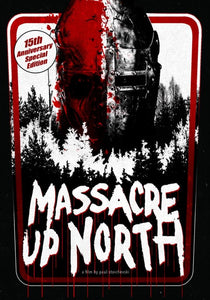 Shivers Entertainment Re-Animates Obscure Shot-on-Video Canadian Horror MASSACRE UP NORTH with a Limited Edition VHS Release!!
Lovers of obscure shot-on-video horror and gore are sure to get VHStoked on this piece of fresh VHS news currently oozing out of a nascent Canadian company by the name of Shivers Entertainment! Owner and operator Brenin Barrow founded Shivers Entertainment with the express intention to rebirth an array of under-appreciated Canadian cinema, with a central focus on the weird and wild side of Canuxploitation. And they're doing just that with their initial release: a Limited Edition VHS and Deluxe DVD re-issue of the late 90s / 2001 SOV slasher splatterfest MASSACRE UP NORTH, which is currently ready to roll into your VCR via their Official site.
The cover art for the Shivers Entertainment VHS re-issue of MASSACRE UP NORTH. Gotta love that Astral Video love, man. Grab your slab here.
You can groove on through a few choice words with founder Brenin Barrow just below to get familiar with the low-budge madness of MASSACRE UP NORTH and Shivers' brand-spankin' new re-issue:
"MASSACRE is a pretty wild Canadian shot-on-video film that basically fell into obscurity shortly after its debut on VHS. It was originally released in 2001, although production of the film started in the late '90s. The film was initially only released in Canada exclusively from Roger's Video which only added to its obscurity. I stumbled upon the movie when I managed to get my hands on a copy in a lot of VHS I scored off Craigslist about 5-6 years ago. Once I watched it I knew it was something special. There aren't many SOV horror flicks made up in the great white north so when you find one, it's kind of a big deal. When I started my new releasing company, Shivers Entertainment, MASSACRE UP NORTH was pretty much my first choice for my debut release. I contacted writer/director Paul Stoichevski who is not a fan of his film but agreed to let me do a small run of Limited Edition VHS and Special Edition DVDs. Just before production started, the lead actor dropped out so Paul had to jump in and star in his own film. 2016 is significant as it marks the 15th year anniversary of this films initial release. Also, the VHS, DVD and poster artwork by Earl Kess has been getting lots of positive feedback."
The MASSACRE UP NORTH DVD cover / poster art from the one and only Earl Kess.
Man, what a find, eh, Tapeheads?! We'd VHSsay so, indeed! There's a complete synopsis here, or scroll on down and get a look at the Official NSFW MASSACRE UP NORTH trailer from Shivers Entertainment to get an better grip on the groovular amounts of gore, murder and mayhem that await you in this release...
Well, there's no shortage of blood or bitchin' kills in this one, Videovores! And if that's your kinda thing (which it probably is!), then this limited edition slab certainly needs to reside on your shelf. It's limited to just 70 copies on VHS, so act now, or forever hold your DVD, dude. Shivers is also selling some groovy second-hand VHS, so you might want to take a look before you complete that purchase.
Groove and Groove and Try it. You'll like it.
Josh Schafer
---