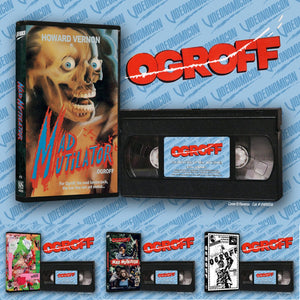 VIDEONOMICON Offers Up the First Official North American VHS Release for French Horror / Slasher Flick OGROFF aka THE MAD MUTILATOR!
Fans of that obscure but adored grimy and slimy French-made death fest OGROFF aka THE MAD MUTILATOR, you're VHShip has come in. Yes, thanks to those rewind-radical, analog-affirming Canadian dudes at Videonomicon, you can slide that battered, third-gen bootleg to the back of the shelf for sentimental safe keeping, because there's now a sumptuous re-issue of your favorite no-budget French gore flick featuring that flesh-munching masked maniac that's fond of running saw teeth down the back of children's necks. They're goin' quick, Videovores! Grab that slab here.
A look at both sides for the A and B cover variants for OGROFF: MAD MUTILATOR from Videonomicon, man!
Here's the trailer and all of the official release information on the VHS release from Videonomicon just below, Tapeheads:
Ogroff: Mad Mutilator (1983) Release Number: VNR0008 Director: Norbert Moutier Runtime: 87 mins Videonomicon proudly presents one of the first truly underground French horror/slasher films – officially available in North America for the first time ever – Norbert Moutier's Super 8mm gore-fest OGROFF (aka MAD MUTILATOR)! For Ogroff, the mad lumberjack, the war is not over yet. Having suffered trepanation and ablated in one eye during the war Ogroff continues the fight by brutally killing anyone who enters the forest where he now resides. That is until one woman catches his eye and things get even weirder! Friends, families, kids, cars – no one and no thing is safe from the Mad Mutilator! Norbert Moutier (credited as N.G Mount), at the time a video shoppe owner, started filming in 1982 with no money but with a lot of passion.
His dream: to achieve a French horror version of films like The Texas Chainsaw Massacre, Friday the 13th, and Night of the Living Dead that he could rent in his own store. What resulted over weekend shoots in the French countryside with the help of friends and other cinephiles (Alain Petit, Midnight Party, Zombie Lake) became a violent, over-the-top, bizarre, non-sensical, and nearly dialogue-free cult oddity which features the special participation of Jess Franco regular Howard Vernon (A Virgin Among the Living Dead, The Erotic Rites of Frankenstein) in a surprising and strange supporting role. Videonomicon brings this rarely seen one-of-a-kind horror masterpiece (or disasterpiece depending on how you view it) completely uncut and uncensored in its original French language with improved subtitles and newly remastered picture! "Truffaut. Godard. Malle. Rohmer. Ogroff. …a benchmark in the halls of accidental, no-fi surrealism." – Joseph A. Ziemba, Bleeding Skull! Limited to 50 hand-numbered copies! And two different reversible cover options (Cover A - 25 copies, Cover B - 25 copies)! I
ncludes liner notes booklet with writings and reviews from Andy Bolus and Bleeding Skull!'s Joseph A. Ziemba! Cover A features reversible artwork featuring the original Ogroff poster artwork and new cover artwork by artist Steak Mtn. Cover B features reversible artwork featuring the original Mad Mutilator VHS artwork and new artwork by artist and Videonomicon co-founder Jon Vaughn! Distributed exclusively by Videonomicon.
*Ships to Canada and the United States only due to licensing restriction (International orders will be cancelled and refunded). Please note this is an NTSC videocassette.* Videonomicon has also issued this Super-8 blood belcher on official DVD in North America for the first time ever, loaded with groovy extras. You know… if you're into that sort of thing.
Groove and Groove and TIMMMBURRRRR!!!
Josh Schafer
---