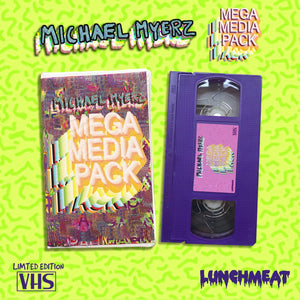 LUNCHMEAT Proudly Presents Atlanta Outsider Hip Hop Artist MICHAEL MYERZ on Limited Edition Fresh VHS with MEGA MEDIA PACK!
Enter the world of Atlanta-based outsider hip hop artist Michael Myerz with his newest crazed concoction: MEGA MEDIA PACK, unleashed exclusively on fresh VHS from your fellow Tapeheads here at LUNCHMEAT! This limited edition videocassette features a mind-bending menagerie of content including music videos, personal interviews, surreal animation, groovy interludes, and so much more, dudes.
Have a look-see, Videovores! Dig those primo purple tapes, too. Available HERE.
This is a strictly limted edition of 25 copies, pressed on juicy purple videocassettes. Each order from our webstore will also include an original poster from the VHS release show! Grab this groovy VHSlab HERE. If the VHS is sold out in our store, no rewind worries. You can still snag copies from Mr. Myerz himself by contacting him @mrmyerz! And if you don't do the Instagram, we get it, dude, and you can just send us an email, and we'll connect you!
Groove and Groove and Gim'me Your Cheeze.
Josh Schafer
---