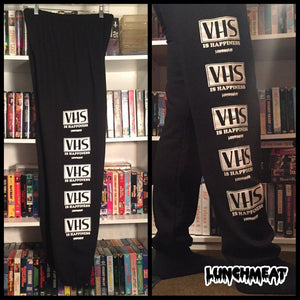 VHS IS HAPPINESS Sweatpants ARE BACK! Available NOW Along with Even More Radical LUNCHMEAT Apparel via an Exclusive Collaboration with MEDIA CRYPT!!
You AXED for it, Tapeheads! And we listened! Our VHS IS HAPPINESS Sweatpants are now back in action, available via an exclusive collaboration with our fellow home video-lovin' buds at MEDIA CRYPT! Our VHS IS HAPPINESS Sweatpants are AVAILABLE NOW via MEDIA CRYPT's Official Store, or by simply clicking this here hot link! Sizes S – 2XL are available, so groove on over, grab a pair, and prepare to experience the ultimate in rewind-inclined relaxation time, dudes!
They is back, Tapeheads! Groove to MEDIA CRYPT, and get the ultimate in rewind-inclined comfort!
We've also teamed up with MEDIA CRYPT to offer some classic and exclusive LUNCHMEAT apparel designs via their website, including VHS IS HAPPINESS, our DON'T FEAR THE REWINDER design in an all-new pink-on-black variant, and we've also resurrected our I'D RATHER BE WATCHING VHS design because, hey, ain't it the ultimate Tapehead truth?! You're damn VHSkippy, it is! And, as always, our VHS MELT design is also ready to invade your Tapehead wardrobe!
CLICK HERE to get totally VHStylin', Tapeheads!
And as a totally radical custom plus, all of these shirt designs are also available on hooded and crewneck sweatshirts! DIG IT! All you gotta do is select the CUSTOM HOODIE or CUSTOM CREWNECK option on the MEDIA CRYPT site, and request whichever LUNCHMEAT design you desire! It's as VHSimple as that, dudes! So what are ya waiting for?! Groove on over the Official MEDIA CRYPT site and fulfill all of your radical rewind-inclined apparel needs! Trust us: once you do, you'll be totally VHStylin'. We gawr-uhn-tee!!
Groove and Groove and GIMME THOSE HOT T-SHIRTS!!
Josh Schafer
---