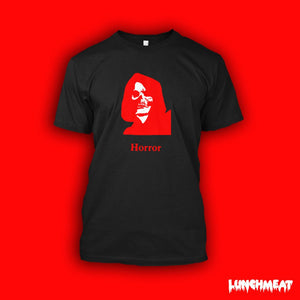 LUNCHMEAT Brings the HORROR REAPER VHS Rental Sticker Back from the Grave on Limited Edition Threads! PLUS! More Exclusive LUNCHMEAT Apparel Designs Now Available!
If you're one of the rewind regulars here in Lunchmeat Land, you're likely to be aware of our affection for the subtle yet essential aesthetic appeal of video store rental stickers. Past posts have explored the preference of leaving or heaving these historical, often insightful but sometimes unsightly sticky remnants that steady populate former rental slabs. We've also documented the continued celebration of the utterly iconic green horror genre sticker that has been popping up within the VHS culture throughout the past couple years now, most notably through products from the radical peeps at Creepy Company out of Chicago. But there is one VHS rental sticker that while decidedly more obscure than others, simply slays when it comes to aesthetic excellence. That sticker, my fellow Videovores, is the HORROR REAPER genre sticker.
There it be! The OG, so fresh and so clean.
And, man, we dig it so dang much, that we've taken an original scan of this sticker from the collection of fellow Tapehead Steven Bostic, and transformed it into a few pieces of radical rewind-inclined apparel, exclusively available via our newly launched TeeSpring store, which is now live via THIS LINK.
THE BLACK DEATH! It's actually just a black shirt... but you know what we're VHSayin. Grab it HERE.
Available on both white (as to keep the integral presentation of the original sticker) and black shirts (for those Tapeheads who are apt to collect ketchup stains, have a dribbly lip, or are prone to have their shirt catch a nacho cheese drip – we totally get it), the HORROR REAPER shirt is here to help jazz up your rewind-inclined wardrobe and champion this less celebrated, but arguably more awesome Horror genre tape token.
The gang's all here, dudes! The exclusive collection of VHS-driven LUNCHMEAT threads now ready to roll.
Both HORROR REAPER shirts are available now via the LUNCHMEAT TeeSpring store, along with a few other exclusive LUNCHMEAT threads, featuring our I BELIEVE IN VHS and HEART ON FOR VHS designs, as well as a re-launch of our REWIND OR DIE Magnetic Monster design! All of these are available on shirts, hoodies and crewneck sweats via our TeeSpring, so grab 'em up while grabbin's good, Tapeheads! You're gonna look groovy, dudes. Real groovy.
Groove and Groove and Get Totally VHStylin'.
Josh Schafer
---