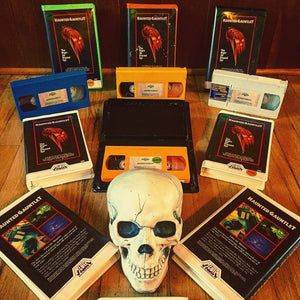 Keep That Scare Season Spirt Alive All Year with the Halloween 2017 VHS Mixtape Rewind from LUNCHMEAT!
With the myriad of spooky, kooky, and wonderfully weird entertainment out there associated with the spirit of Halloween, it would seem the full-flavored thing to do to try and capture the gargantuan scope of spooktacular seasonal spectacles is to homebrew a hellacious Halloween mixtape. And this year, both established entities and enterprising individuals throughout the VHS community did just that, collecting oodles of retro Halloween material from spooky TV specials, to creepily fun cartoons, to nostalgia-drenched commercials, all stitched together to create an eye-popping array of merrily macabre medleys to help kick your Halloween party into the next dimension.
Yeah, we know: October 31st may be over for 2017, but with the power of these rewind radical mixtapes, you can feed your VCR those Halloween home video vibes anytime. And that's pretty groovy, man. It's important to note that a few of the slabs on this year's list were spawned via the ever-growing VHS-obsessed interactions on Instagram, along with the insanely active VHS-centric online forums like VHS Misfits (aka VHS Dipshits), Planet VHS Horror, and VHS Wildlife Presrve where these mixtapes are gifted, traded, and circulated, often without the exchange of actual dollars (save the Tapeheads looking to feed this swelling wave of underground mixtape makers with donations). So, without any further analog ado, here's a flash rundown of some of the most righteous rewindable slabs of VHSpooky mixes we've encountered this Halloween season, Tapeheads!
The Official Eddie Spuhghetti Halloween Companion Vol 1 and 2: Regulars here in Lunchmeat Land will already know about these absolutely fang-tastic mixtapes from VHS-lovin', smooth-talkin', snarky-and-loving-it entertainer Eddie Spuhghetti. His two volumes pack around 12 hours of non-stop Halloween-topia, offering both classics and obscurities, all certain to please the even the hungriest of Halloween home video hounds. These are gone for the season, but you can get more info HERE, and hopefully, they'll be back from the grave next year. Until then, be sure to peep Eddie's cable-access insanity called Here Lies viewable on OSI 74!
Magnetic Magic and Forever Bogus Present: A Totally Bogus Halloween Vol 1 and Vol 2: If you're familiar with these dudes, you'll know that non-stop VHS love and utter analog madness ensues over at MM and FB HQ. 2017 saw a re-issue of their much adored mixtapes A Totally Bogus Halloween Vol 1 and 2. They also issued a most excellent audio cassette mixtape this year aptly entitled Hallowicked Creeptape that includes an overflowing bag of aural goodies including an episode of the Tapestuck podcast, original horror-tinged tunes and yours truly (Josh Lunchmeat) voicing a faux video store blood drive ad, along with a spot from the one and only Tapewolf. Snatch it, hear it and see their other rewind wares by clicking HERE.
I Remember Halloween from Secret Lair: Okay, so, technically, this didn't come out on tape this year, but it was re-issued on DVD via Secret Lair, and quickly sold out. These mixes make the list simply because they absolutely slay. The highly entertaining fast-pace editing, the groovy music overlays and of course, the overall choice of content are beyond VHSuperb, and no Halloween mixtape collection is truly complete without the presence of these bad boys. Nate Pancakes from Secret Lair is one the best out there when it comes to crafting VHS mixtapes, and though they're all out-of-print via analog means right now, you can still grab his delicious pizza-driven mix Pizza by the Splice, which I guarantee will spin you like a top. Plus, he's a super-cool guy, so if you ask for a VHS version, he just might whip it up. All Hail the Pancakes!
Vincent Price's Septemberween Thriller: This is a mixtape I picked up via the VHS Misfits group based on the name alone. Who could blame me, right? Put together by Ivan Baeza, this is "6 hours of various Halloween specials, cartoons, commericals, some movies and all kinds of magical shit." And that's a direct quote. It does have Vincent Price hosting a TV special, but it's all sliced and diced to create something unique, melding together all kinds of taped-from-TV goodies, straight from a second-gen VHS. Blips, unbeatable tracking lines and fuzzy audio are all invited to the party, and add to the cheap-o charm of this homebrewed VHS mix. These were given away gratis, with the option of donating if you had the spare coin. My copy was delivered with some candy and one of those spooky Halloween pencils. Dig it. You can contact Ivan via his Instagram HERE.
Haunted Gauntlet: Here's a mixtape that came across our anti-digital desk here at Lunchmeat HQ that offers some fast-moving creepy clippage, frosted with some dance-driven spooky original sounds. The Blessed Possession segment of the mix has a chiptune vibe, but it's like chiptune covered in fake cobwebs and those purple string lights you would find at the dollar store. The music is matched to mashed-up overlays of spooky black and white cartoons and VHS releasing company logos. You can get a full view of Blessed Possession HERE. In addition to the Blessed Possession video album, there's another 60+ minutes of ghostly aural / visual goodies from Haunted Gauntlet including Spew Me, which is described as "obscure horror soundtracks flipped into a pukey beat mix", MyOther Brain which is all brain-oriented VHStuff, Lake of Acid which soaks you with water horror content, and Bless Up with your Cousin which is apparently Haunted Gauntlet blessing up like a boss. The VHS mixes come housed in various, random colored clamshell cases with both black and spool-swapped tape stock. At the time of this writing, only 7 of the 13 copies made remain. Grab this slab HERE.
The Rat Tail Halloween Spectacular: If you've spent any time in VHS Wildlife Preserve, you know Mark Ratelle AKA Mark Rat Tail. An avid VHS / nostalgia collector and master of scare-a-monies at VHS Wildlife Preserve, this mix features tons of classic Halloween cartoon episodes, musical segments from spooky flicks and everything else you'd probably expect from a homebrew Halloween VHS mix. What really got our attention on this one was the hand-drawn cover art, and the fact that it has shot-on-video wrap-around interstitials hosted by Count Stalkula AKA Danny from Cinestalker. That's worth the price of entry alone, which I believe is around 15 bucks. Take a VHStroll over to VHS Wildlife Preserve, give Rat Tail a shout, and tell 'em Lunchmeat sent ya!
VHS Bandits Halloween Mix Part 1 and Part 2: And last, but certainly not least, dudes, it's the VHS Bandits double-dose of Halloween-themed home video! Hosted by the charismatically cheezy and endearingly awkward Super Dracula (played by one of the Bandits), this two volume Halloween content collection has flooded the Videovore world, being given out absolutely free by the amazingly generous VHS Bandits. Aside from the crucial content like The Halloween that Almost Wasn't and Mad TV Halloween sketches, the production on these releases are absolutely spooktacular. Custom painted video cassettes with random scare season / video rental stickers, encased in black clamshells with full-color custom artwork show a great attention to detail, and most importantly, a dedicated love for the format. Plus, my copies came delivered with a couple groovy little toys, trading cards, and some delicious sugary treats, which I ate immediately. In our humble home video opinion, this double-volume Halloween mix from the VHS Bandits tops the 2017 list, Tapeheads. Hey, Bandits! We here in Lunchmeat Land VHSalute you! The VHS Bandits were also kind enough to recently interview yours truly on their podcast, and we got deep into the current culture of VHS, my views on the changing VHS collector climate, and my personal affection / obsession for the format. You can hear that interview HERE, and keep up with / contact VHS Bandits via their Instagram or official website!
Phew! Now that you've chewed through all that, it should give you plenty of super-spooky home video Halloween fun until next year, eh, Tapeheads?! If not, there seems to be a multitude of these mixtapes popping up all across the rewind-inclined landscape, so we encourage you to explore the depths of VHSocial media and beyond to uncover even more retro Halloween brain candy via home video! You'll be glad you did, dude.
Groove and Groove and Bellyaches Never Hurt So Good.
Josh Schafer
---
5 comments