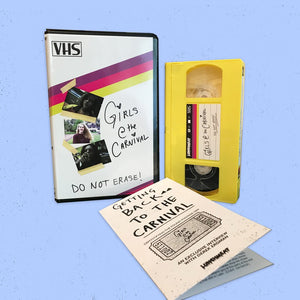 Obscure Found Footage Gem GIRLS AT THE CARNIVAL Now Available on Limited Edition VHS from LUNCHMEAT!
Released at VHStival 2019, and now available for the first time since 1998 on officially licensed VHS from LUNCHMEAT! The Limited Edition VHS Re-Issue of the found footage gem GIRLS AT THE CARNIVAL comes housed in all new artwork from Savannah Soule with an exclusive interview with the original distributor Derek Erdman! The interview details the origins and intial release of GATC, along with Derek's thoughts on its re-release through us here at LUNCHMEAT!
A look at the popcorn yellow videocassette variant for GIRLS AT THE CARNIVAL. Feed this one to your VCR. You won't rewind regret it!
So what's this obscure found footage oddity all about? We're so glad you asked! Here's a bit more insight to what awaits you on the tape: GIRLS AT THE CARNIVAL is an inadvertent documentary, an unadulterated look at mid-western life in the early 1990's. As this recording was never meant for reproduction or mass viewing, each scene is rich with spontaneity, each spoken word is obviously unscripted and devoid of conscious thought. Follow Jenn, Kelly and Nellie through a world of obscenity, lust and hedonism and decide for yourself how the moral fabric of America's heartland has dissolved like a pair of thin cotton socks soaking for weeks in a sink of extra strength bleach.
The black videocassette variant of GIRLS AT THE CARNIVAL. Nothing beats a classic, man. VHSnag it HERE!
Also included in this LUNCHMEAT Limited Edition Re-Issue is the short film "Bowl Of Soup", written by Derek Erdman and directed by Bobby Burg and five music videos featuring the music of The Beauty Pageant. This is a limited edition of 40 copies: 15 on popcorn yellow videocassettes, 15 on classic black videocassettes, and 10 on remember-when white videocassettes (which sold out at VHStival 2019). Grab your slab on our official VHStore, and time travel back to those ridiculous and radical times of the 90s when camcorders were a way of life, and the coolest dude at the party sported a leather 8-ball jacket. Fans of shot-on-video and found footage oddities, this is the slice of raw Americana you've been waiting for. Click here to VHSecure your copy!
Groove and Groove and Are You Gonna Use Those Tickets, Dude?
Josh Schafer
---