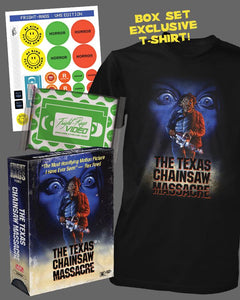 FRIGHT RAGS to Unleash VIDEO SERIES T-SHIRT BOX SET Celebrating THE TEXAS CHAIN SAW MASSACRE VHS Cover Art by Richard Hescox!
There are few instances of VHS cover art that have proved to be as lasting and iconic as the Media Home Entertainment release of The Texas Chain Saw Massacre. It's one sexy slab to be sure, and it's apt to make the most voracious Videovores salivate at the very sight of it. And now, horror-centric apparel company FRIGHT RAGS is just about ready to make this outstanding piece of home video cover art a part of your rewind-inclined wardrobe. Come Wednesday, January 25th at 10AM EST, FRIGHT RAGS will unleash an official collaboration with artist Richard Hescox (who also created cover art for titles like Death Valley and video collector favorite The Capture of Bigfoot) bringing forth a most righteous and meaty package, overflowing with celebration for this horror home video heavyweight and all the memories of the video store orbit.
A mock-up of the FRIGHT RAGS Video Series T-Shirt Box Set! Say that three times fast, Tapeheads!
Here's an informative chunk from the official release copy from FRIGHT RAGS: On January 25th, we will release the first in what we plan to be a series of box sets that pay homage to the VHS era and, more importantly, our childhood. In addition to recreating art that we loved as kids, these limited edition box sets will also contain things from that era; stickers that you would readily see at stores and on tapes, as well as delicious custom made microwaveable popcorn. The first box set to be released in this series is one of the films that defines the home video era: The Texas Chainsaw Massacre. Designed by artist Richard Hescox, this cover taunted me as a kid; it was equally scary as it was mesmerizing and led me to rent the movie and ultimately fall in love with it. We had the pleasure of working with him to be able to release this design, and I couldn't be more thrilled. This box set is limited to 300 and will be released on January 25 at 10am EST. While the black shirt will only be available in the box, a hoodie, baseball tee, and blue vintage ringer will also be available. Check out the details below and see you next week! And here's a groovy little video with a preview of the box set courtesy of the FRIGHT RAGS Instagram:
Here are some other essential details you might want to know, Tapeheads!! Artwork by Richard Hescox PRICE: $42 SIZES: S-5X, Girls S-2X Contents: - Texas Chainsaw Massacre Video Series Box Set Tee - VHS Collector's Box - Fright-Rags Video VHS Sticker Sheet - Fright-Rags Video Microwave Popcorn Please note — Box Set DOES NOT contain a copy of the movie. The Collector Box is meant to mimic a VHS box.
What a package, huh?! Be sure to groove to the FRIGHT RAGS site on Wednesday, Jan 25th at 10AM EST to score yours, man. They'll be flyin, we're VHSure! We here in Lunchmeat Land are totally stoked to see the VHS love continue to expand and flow in a variety of exciting ways from FRIGHT RAGS, and honestly, we can't wait to see which piece of most excellent VHS box art they pay tribute to next! What would YOU like to see them do, Videovores? Comment below, and let 'em know, yo!
Groove and Groove and It's a Good Picture!!
Josh Schafer
---