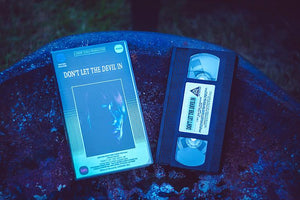 WEIRD LIFE LTR Brings the Courtney Sell Horror Film DON'T LET THE DEVIL IN to Limited Edition VHS!
The video vindicators over at Weird Life LTR are likely to already be on your rewind-inclined radar. They're an entity that has been steadily pumping out an array of radical fresh VHS, including the mind-bending neon noir flick Virus, Courtney Fathom Sell's heartfelt and powerful backyard filmmaking documentary Tracking Issues, and a very limited VHS release of Aquarius, which is described as "introspective and experimental dance film" from Russian filmmaker Timo Zahlnin, created in conjunction with The Drunken Film Fest. Weird Life LTR's catalog continues to swell, intrigue and impress, and with their latest release, they've rejoined forces with filmmaker Courtney Sell to produce a limited edition videocassette release for his atmospheric small town cult chiller Don't Let the Devil In.
The DON'T LET THE DEVIL IN Limited VHS Release from Weird Life LTR. Dig that Warner Clam love, man.
For more insight on the film, here's the official description for the film, followed by the trailer: John and Samantha Harris, Newlyweds who've just suffered a miscarriage, seek to start their already crumbling marriage somewhere outside of New York City. Yet, when John is relocated by his job to a small town deep within the Appalachian Mountains, it seems like the perfect opportunity for the couple. Warned that there may be some anger and resentment from the townsfolk, the Newlyweds proceed into the heart of Appalachia with healthy optimism. However, it quickly becomes evident that not only are they not wanted, but they have found themselves wrapped up within a nightmarish tapestry of pure evil that lurks within the underbelly of small town America. WARNING: PERFECT FOR HALLOWEEN!
This collector's edition VHS from Weird Life LTR is the only way you'll be able to get a look at the entire film before it's wide release via Midnight Releasing on October 3rd, 2017, so groove on over to the Weird Life crew, grab this slab, and view it before the masses via the power of your VCR. The Don't Let the Devil In fresh VHS is available by clicking HERE, exclusively through the VHS-lovin' crew at Weird Life LTR.
Groove and Groove and Don't Go Down That Road.
Josh Schafer
---