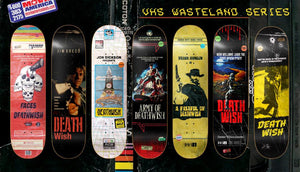 DEATHWISH SKATEBOARDS Unleashes VHS Video Cover Inspired Decks with Their VHS WASTELAND Line!
Here's some exciting news for all you VHSkaters out there! Some of you may recall a line of skate decks from NY-based skate outfit 5BORO celebrating the artwork of home-record VHS blanks from the 90s, but the super-gnar dudes over at Deathwish Skateboards have just kicked the video cover love up to another level. They're issuing an insanely awesome line of decks aptly entitled the VHS Wasteland line, featuring cover art from flicks like the DEATH FACES, ARMY OF DARKNESS, TOXIC ZOMBIES, and of course, the bad-ass Bronson essential DEATH WISH!
The Official Advert from DEATHWISH for the VHS Wasteland line. Clickity-click for a closer look, man!
But the Deathwish crew didn't stop there, Tapeheads. This VHS Wasteland line also manages to toss in some love for radical releasing companies like Paragon, Interglobal and Vestron International Home Video, and they've even incorporated some era-authentic rental stickers like the essential green horror genre circle and the fan favorite Melt Warning into the graphics. Deathwish is also offering a
sticker pack
which features all of their interpretations of this radical analog era art, and
some threads inspired by the art.
Each deck is ready to arrive at your doorstep for just 55 bones plus shipping, and you get a free sheet of black grip. You can
groove to the Official Deathwish site
to grab these bad boys! A gnarly home video high-five to fellow Videovore
Kylebunga
for the heads up on these!
Groove and Groove and VHShred Till Yer Dead!
Josh Schafer
---