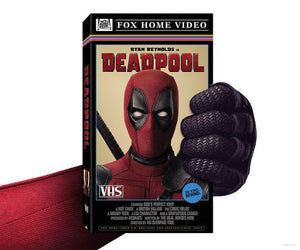 DEADPOOL Will Receive Limited Edition VHS Release from 20th Century Fox at the 2016 San Diego Comic Con!
Well, Tapeheads, it looks like even 20th Century Fox is getting in on the fresh VHS game! According to a report on the unofficial San Diego Comic Con blog relaying a tweet from the Offcial Deadpool Twitter account, the 2016 superhero smash hit starring Ryan Reynolds will be receiving an extremely limited VHS release at the upcoming SDCC event, which starts tonight with a preview and then runs from July 21st – 24th. For each day of the actual fest, the VHS will be given to the first 25 customers who purchase the Deadpool Blu-Ray from the Fox Home Entertainment booth at SDCC, the first 250 of those Blu-Rays being signed by Ryan Reynolds.
It's totally real, Tapeheads, and available at SDCC this weekend. Click HERE for a groovy GIF of the actual tape!
So, with only 25 going out each day, that would add up to only about 100 copies of
Deadpool
on VHS from Fox Home Video. For Fox, it's a groovy gimmick and an ultimate limited edition for
Deadpool
fans, but for the VHS collector community and other analog enthusiasts, it's a sign of total rewind redemption. Fox just produced a VHS release in 2016. And that's pretty groovy, man.
Groove and Groove and Saturday Morning 5EVA.
Josh Schafer
---