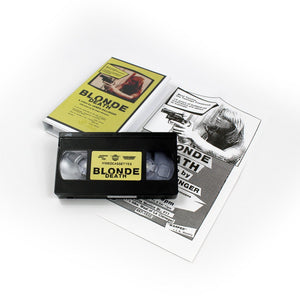 BLEEDING SKULL! VIDEO, MONDO VIDEO and VERBODEN VIDEO Team Up to Bring the Ultra-Obscure Shot-on-Video Film BLONDE DEATH to DVD and Fresh VHS!
If you're a local here Lunchmeat Land, the video vindicating duo of Bleeding Skull! Video and Mondo should already be on your rewind-inclined radar for their outstanding fresh VHS editions of titles like CARDS OF DEATH, THE SOULTANGLER, NIGHT FEEDER and most recently, the regional shot-on-video mind-melter SCARY TALES.
Bleeding Skull has also been keeping up the analog-induced excitement with their steadfast work on unearthing, reviving and preparing for the total re-animation of an (almost) totally lost piece of outstanding SOV trash cinema from director James Bryan called JUNGLE TRAP that'll be making its world premiere at Fantastic Fest in just a couple of days. With their newest release, however, the choco-peanut butter combo of Bleeding Skull! Video and Mondo is adding another flavor to the mix with the addition of Warren Chan's Verboden Video (an entity that's doing some wonderful analog archaeology of their own) to present an ultra-obscure shot-on-video black comedy from 1984: BLONDE DEATH. Here's a taste of what awaits you on the tape…
BLONDE DEATH (originally titled AMERICAN PERVERSIONS) will be unleashed on DVD, VOD and extremely limited fresh VHS, available via the Official Mondo and Bleeding Skull! Video sites on Friday, Sept. 23rd at Noon CST.
Here's look at the whole analog enchilada for BLONDE DEATH, coming Sept 23rd from Mondo, BS!V and Verboden! This is one righteous slab of VHS, man.
Here's the official press release from the dudes at Mondo / Bleeding Skull:
Mondo is proud to present its distribution of a joint release between Bleeding Skull! Video and Verboden Video: The 1984 shot-on-video black comedy BLONDE DEATH. Shot for $2000 by "James Dillinger" aka James Robert Baker, a playwright-novelist-anarchist who was once described as "the world's angriest gay man," BLONDE DEATH is a major triumph in the shot-on-video universe. This movie wages war on suburban America, attacking the concepts of family and love with murderous wit. BLONDE DEATH draws possible dismissive comparisons to early John Waters, but it's as strong as Waters' best. At the age of 51, Baker chose to end his life via carbon monoxide poisoning in his garage (exactly how two of his lead characters perish in BLONDE DEATH). This was his supreme bird-flip to the world. Though we wish he could be alive to experience this praise of his work, the brilliant and overlooked James Robert Baker -- to his credit -- wouldn't care.
Produced by legendary Los Angeles underground art collective EZTV, BLONDE DEATH was heavily bootlegged, but never released widely on home video. BLEEDING SKULL! VIDEO's release has been transferred from the original 1" master tapes, making it the best looking-and-sounding version of BLONDE DEATH that has ever been available. SPECIAL FEATURES - New transfer from the original 1" master tape! - Video Interview with Sara Lee Wade - Archival interview with EZTV founder John Dorr (DVD only cuz it's really long) ABOUT BLEEDING SKULL! VIDEO: BLEEDING SKULL! VIDEO is dedicated to sharing unreleased (or barely released) movies with the world. Partnering with Mondo, the art boutique of Alamo Drafthouse Cinema, BLEEDING SKULL! VIDEO specializes in ultra-obscure, no-budget horror and exploitation movies from the 1980s and 1990s. For more information, visit BLEEDINGSKULL.COM. ABOUT VERBODEN VIDEO: VERBODEN VIDEO is committed to restoring and presenting the forgotten and forbidden gems of cult cinema in never-before-experienced quality. For more information, visit VERBODENVIDEO.COM.
The original VHS release and some choice grabs from BLONDE DEATH!
This one's bound to sell out so fast it'll make your head VHSpin, Tapeheads, so be sure to greez-up that keyboard for extra speed and scoop this slab of outstanding analog obscurity at MondoTees.com or BleedingSkullVideo.com before it's totally VHiStory. Your VCR's gonna love you for it.
Groove and Groove and Got Any VHS Tapes in Your Trunk?!
Josh Schafer
---