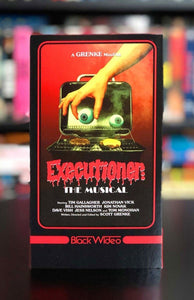 BLACK VVIDEO Brings shot-on-video obscurity EXECUTIONER: THE MUSICAL back to VHS! Next up: RAMBONER Double-Feature Dropping June 21st!
The production of new VHS releases (or as we like to call them here in Lunchmeat Land "fresh VHS") continue to roll into VCRs at a rewind-radical rate. There is a robust collection of companies currently keeping the analog dream alive: Us here at Lunchmeat are VHSteadily supplying tasty tape treats of all inclinations (with plenty more to come!); Witter Entertainment is connecting Tapeheads and modern day horror; Retro Release Video is re-animating killer cult classics; and our Videovore homies at Horror Boobs are back from a home video-releasing hiatus, ready to bring you the best of low-budget brain-melters and beyond straight to your VCR. And now, the nascent Black VVideo out of Portland, OR has started invading tape decks with the scarce shot-on-video singin' and dancin' slasher out of Chicago circa 1989: Executioner: The Musical.
The absolutely killer cover art for EXECUTIONER: THE MUSICAL, created by Eric Adrian Lee! Bring on the party... erm, we mean PICNIC!
Directed, written, and edited by Scott Grenke, E:TM is every bit as ludicrous and delightful as the title suggests, offering campy comedy, catchy tunes such as "Friendly Killer", "I'm Gonna Die (Da Do Be Do)", and "All I Wanna Do is Party" (which will inevitably give you a case of earworms), and the most beautiful use of a blood pump you've ever seen. Here's a look at the official trailer for E:TM from Black VVideo:
E:TM is available now via the Black VVideo store, and comes packaged in a sleek and VHSexy slipcase with all-new eye-popping art from Eric Adrian Lee, accompanied by Black VVideo Zine No. 1 featuring an insightful interview with filmmaker Scott Grenke.
A look at the back of EXECUTIONER: THE MUSICAL and the videocassette. Those windows, though!
We've also just received word from the VVidow at Black VVideo that the Ramboner (not a porno!) titles from Grenke will popping up for sale this coming Father's Day on June 21st as a single tape double-feature with all the fixins! You can get a sneak peek at Codename: Ramboner and Last Blood: Ramboner PT II by clicking those respective hot links, dudes. Be sure to groove over to Black VVideo to check out their rewind-inclined wares and keep your eyes peeled on June 21st, Tapeheads. Your VCR will thank you.
Groove and Groove and Listen to the Music, dude.
Josh Schafer
---