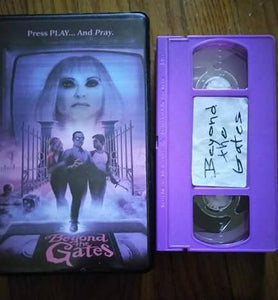 LO-FI VIDEO Brings BEYOND THE GATES to Limited Edition VHS and Prepares to Re-Animate SLASHDANCE on VHS with VERBODEN VIDEO!
LA-based Lo-Fi Video established themselves in the fresh VHS world with their VHS re-animations of cult horror classics like Don't Go in the Woods, Rocktober Blood and the absolutely radical big box edition of what is arguably the most ridiculous and lewdly entertaining "exercise" video of all time: Linnea Quigley's Horror Workout. But in the latter half of their existence, Lo-Fi has displayed a knack for capturing the rights to commit some of the most exciting contemporary cult / horror flicks to VHS, including a big box edition of the neo-cult classic post-apocalyptic sci-fi romp Turbo Kid and a limited edition slab for the sticky-sweet gore-soaked anthology treat Tales of Halloween. And now, Lo-Fi has brought one of the most talked about indie horror flicks of the past year to fresh VHS with Beyond the Gates.
The BEYOND THE GATES VHS release from Lo-Fi Video. Tapeheads are coming to get you, Barbara!
Starring fan favorite Barbara Crampton, Jackson Stewart's Beyond the Gates couldn't be any more apt for a VHS release, Tapeheads. And if you're not sure why, then the film's official synopsis and trailer will surely get you up to VHSpeed: In the wake of their father's mysterious disappearance, two estranged brothers -- responsible Gordon and reckless John -- reunite to sift through the contents of his stubbornly anachronistic VHS rental store. Among the inventory, they discover an interactive VCR board game, which their father viewed just before he vanished. Intrigued, the boys pop in the tape, press play, and soon discover that, far from an ordinary game, the video is a portal to a nightmarish alternate reality.
That's right, Videovores: Beyond the Gates is a contemporary horror / adventure flick that pays nostalgia-drenched homage to video stores and that vital VCR board game Nightmare. You know we can dig it. The Beyond the Gates VHS release from Lo-Fi is available as we VHSpeak via their official website, with a little under half of the original press of 50 copies still available. These bad boys come in a large black clamshell with full-color artwork, committed to some powerful purple videocassette stock. There was a too groovy signed edition, but that waved bye-bye early on, as there were only a handful available. And if even you can't snatch up this slab right now, there is talk of bringing forth another run of this flick on fresh VHS if all parties involved are down to do it. Just don't count on that sexy purple slab, man!
A closer look at the BEYOND THE GATES purple slab, which was made to look like the game tape from the film. Dig it.
Lo-Fi is also currently working up a VHS re-animation for the wonderfully ridiculous 1989 camp horror comedy Slashdance, released in league with the nascent video vindicating entity Verboden Video. Slashdance is currently up for pre-order via Lo-Fi, and you can stay up-to-date with that release, and all of their upcoming rewind-inclined creations by following their store.
The preliminary artwork for the LO-FI / VERBODEN VIDEO VHS re-issue of SLASHDANCE. Not the final art, dudes!
So what are you waiting for, Videovores? Clickity-click on over to the Lo-Fi store and grab your slab of Beyond the Gates before you can't, man! Everyone needs more Barbara Crampton on their shelf. And that's fact, Jack.
Groove and Groove and Yes, My Gatekeeper!!
Josh Schafer
---