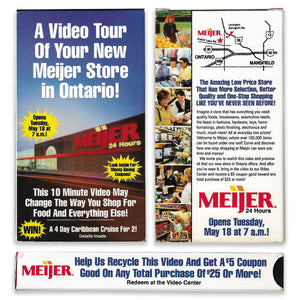 29 Years Ago, MEIJER Marketed Their Supercenter Openings with a VHS Tape. Now You Can Experience the Video on its Anniversary! [VIDEO]
By Josh Schafer
Let's rewind back to this very day in 1993, Tapeheads. Why today, you ask? Excellent question. Because on Tuesday, May 18th, 1993, midwest based supercenter chain Meijer opened their new megastore in Ontario, OH - and they marketed that launch with an ingenious VHSplash! 
Meijer's advertising team knew how to get into people's line of sight, and it was via their VCR. The following 10 minute video isn't just any old VHS tape: this video will change the way you shop for food, clothing, beauty supplies, and even the way you rent videos. The best part? After you're done watching the video, it turns into a coupon to save YOU money at the Grand Opening. Press play on the video below, and away to Meijer we go! 
As dated and cringey as the tape may appear to the modern eye at times, it's actually a rather brilliant ad campaign. Not only does this tape walk us through everything Meijer has to offer in a breezy, entertaining way, but it encourages us to watch closely so we can answer a quiz we're told is required for the $5 coupon (off any $25 purchase). All you have to do is return the tape to the video center quiz answers in hand, and you're in on the deal. You might even want to rent a tape while you're there (CA-CHING)! NOTE* The quiz was missing from this particular tape, so hopefully whoever originally owned this tape got the five bucks off! 
It's easy to imagine viewers rewinding back through the tape to nab the correct quiz answers, and watching the ads over and over in the process, saturating the viewers' brains with the services and wares of this steadily approaching mega Meijer! What a clever and retrospectively cutting-edge slice of interactive marketing from the Meijer team.
And can we just say, Paul Eisenhower's performance is more entertaining than it has any right to be. Paul's a boss, and though we can't find any of his other work (or if it even exists), he's obviously invested in this role. He endures a scene-stealing kiddo in a shopping cart repeatedly screaming "RACING CAR!" into his mic. He's even denied a bite of another kid's oversized donut (which we admit is pretty weird, Paul). Either way, Paul Eisenhower, we VHSalute you for making this whole video tour worthwhile for the casual, after-the-fact viewer.
Paul's hosting heroics aside, there's more to this video tour of the newest Meijer store. Tucked inside the slip, you'd find a booklet filled with 4 weeks of coupon savings, hundreds of FREE giveaways, and a line of copy promising the kiddies they'll see their favorite costumed characters throughout the first week of opening. 
Here's a look at some of the pages inside the included pamphlet. 
We don't know if Arnie the Armour Hot Dog is any kid's favorite costumed character, but we'd sure be glad to see him (and get some free hot dogs). Also, Twinkie the Kid and the Energizer Bunny, FTW. Man, now we really do want to go to this opening. They just don't make 'em like they used to, eh, Tapeheads? BRING BACK PEOPLE IN RIDICULOUS AND WEIRD COSTUMES.
This piece of advertising ephemera gives us a snapshot of early 90s consumer culture (along with product prices), and a glimpse at what would be considered highly creative advertising at the time. It's fascinating to think about how this may have inspired current video ad trends, and how those tactics have diverged. No matter its influence or lack thereof, this is undoubtedly an obscure video experience anybody with a penchant for 90s nostalgia can appreciate. 
Now don't forget that butternut squash!
Special thanks to Matt R., our Videovore bud outta Ohio for sending us this tape many rewinds ago! 
---