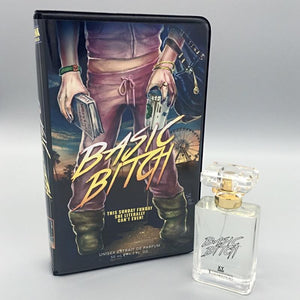 XYRENA Offers XHS: A Line of Unisex Fragrances to Come Housed in Custom VHS Cases with Original Full-Color Cover Art! Images, Details and Order Info!
Some absolutely fantastic appreciation for our favorite format is headed straight for your nose, Tapeheads. The California-based company XYRENA has recently launched a line of unisex fragrances called XHS to come housed in custom VHS clamshell cases, created by retrofitting original tooling used decades ago. The XHS fragrance line comes complete with original full-color cover artwork inspired by the fragrance inside. The first five aromas include titles such as Cinemaniac, Pool Boy, Hellanut, Dark Ride, and Basic Bitch, the last of which pays homage to one of Xyrena founder Killian Wells' favorite posters of all-time: MANIAC! You know we can dig it. Three of the five XHS covers (Cinemaniac, Pool Boy and Basic Bitch) were created by artist extraordinaire Devon Whitehead (Adjust Your Tracking, HI-8). You can check out more of his outstanding illustration work here.
The killer cover art from Devon Whitehead for the BASIC BITCH fragrance from the XYRENA XHS line. That tag line, man.
The XHS line ranges in price from $38 - $72, depending on which fragrance you'd like to add to your aromatic arsenal. The entire line along with detailed images, full descriptions of the scent (or should that be VHScent?!) and the link to buy are all available via the Official XYRENA site.
The back of BASIC BITCH, featuring the humorous but undoubtedly delightful blend of scents in synopsis form. The aesthetics on this are aces, man.
As you're starting to see, the packaging on this line is absolutely awesome, Tapeheads. Here's a look at the custom re-tooling of the inside complete with an embossed Xyrena logo...
The inside of the BASIC BITCH custom VHS casing. Just too radical, huh, Videovores? The attention to detail is just outstanding, and the choice of the MELT warning sticker? Too groovy.
The rewind-inclined olfactory rebels at Xyrena also recently launched Formula 3 by Dalton Maldonado, the first ever signature fragrance from an openly gay athlete. Xyrena is also focused on providing cruelty-free products with special attention to sustainability and environmental protection. For more about Xyrena, their products and the history of their operation, simply click here.
---