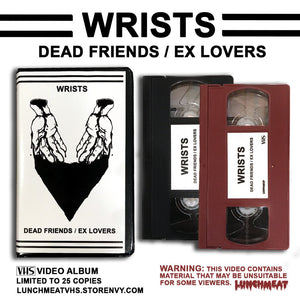 LUNCHMEAT Proudly Presents WRISTS ~ DEAD FRIENDS / EX LOVERS: A Limited Edition VHS Video Album! Order Details and Teaser Trailer!
Clawing up from the desolate depths of despair comes WRISTS: a pulsating, tenebrous wave of electro-goth industrial noise with latent blackened tendencies. DEAD FRIENDS / EX LOVERS is a Limited Edition VHS video album offering an immersive audio / visual descent into a wash of disturbing and decadent original imagery melded with experimental composites of B horror movies and vintage medical films, all draped behind WRISTS signature sound. Dark, surreal and unique, WRISTS exudes a stream of avant-garde suffering.
A look at the Limited Edition VHS album DEAD FRIENDS / EX LOVERS from WRISTS. Available HERE.
You can get glimpse into the WRISTS Limited Edition Video Album just below with the official teaser trailer:
The WRISTS – DEAD FRIENDS / EX LOVERS video album is limited to 25 copies on black videocassettes, with randomly inserted burgundy variants, housed in black clamshell cases, with an approximate runtime of 35 mins. WARNING: This video album contains material that may be unsuitable for some viewers. Exclusively released via LUNCHMEAT, and available while supplies last on the Official Lunchmeat store. Click HERE to grab this slab, Videovores!
Groove and Groove and See You in the Graveyard, dudes.
Josh Schafer
---