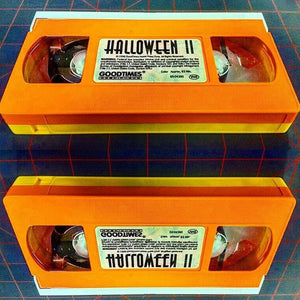 LUNCHMEAT Teams Up with Collin Major and WARLOCK VIDEO to Present a How-To Spool Swap Instructional Video to Help You Create Custom Color Casings for Your VHS Tapes!
There's a new sensation sweeping across the Videovore nation, being performed in order to spice up those standard black slabs of magnetic magic and create a fully custom, often color-coordinated casing for your favorite rewindable reels… and that, my fellow Tapeheads, is something that's colloquially called "Spool Swapping."
It's a practice that's been around since the beginning of VHS repair, but over the past few years, we've seen the artistic and aesthetic persuasion of spool swaps show up in fresh VHS releases via the video vindicators at The Video Pharmacy and Forever Bogus. The online presence of this killer customization technique has also been spreading like rewind-inclined wildfire, popularized by peeps like Preston Matson, Jason Leach, and an army of other crafty Tapeheads.
A totally radical spool swap for the original TMNT complete with custom face label, constructed by Jason Leach! Shellacious, dude!
Just think, man: you can have a green and black VHS for your copy of TMNT, a red, white and blue VHS for your copy of UNCLE SAM with that bitchin' 3d lenticular cover (we WISH we could link you to this – someone please make it!), or some gold tapes for your run of LEPRECHAUN. It's all possible, Tapeheads, and the best part? You can do it yourself.
A super-VHSweet custom "candy corn" swap for HALLOWEEN II done by Collin Major! We all need this. All of us.
What's that? You just don't know how? We got you, man! Here with us today in Lunchmeat Land is Collin Major AKA Warlock Video and Crimson Mask Studios on Instagram, with a groovy little video tutorial shot by Nick Shelton on how YOU can customize any and all of your favorite rewindable reels to have the colored shell presentation straight from your imagination! Ch-ch-ch-check out the video below, Videovores!
Geeze, Mom, give us a break! We're busy! Now this video certainly teaches the basic essentials of spool swapping, but keep in mind that you can use a different color shell for the front and back casings, as well as the top flap to make a tri-color tape (much like the Halloween 3 custom created by Collin, which was featured above). In the immortal words of The Bearded Lady: "JUST HAVE FUN IT!" So, wait are you waiting for, Videovores? Groove to that local thrift shop, grab up some of those kiddie cartoons on colored tape stock for a quarter, and make yourself a custom slab or two for your collection! It's gonna be groovy, dude.
Groove and Groove and HAVE SOME FUN, AH?!
Josh Schafer
---