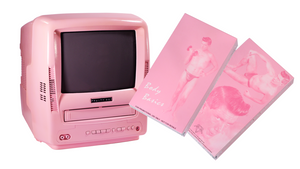 Matthew J. Hutchinson Offers a Wild Home Video Workout to the Fresh VHS World with WALTZ VOL. 1 – BODY BASICS!
The collective fresh VHS movement has certainly spawned an impressive array of newly-produced home video releases over the past several years, offering manifold slabs of magnetic magic ranging from obscure horror re-animations, to full-length documentaries to music videos to every turn of indie cinema imaginable. But now, multifaceted artist Matthew J. Hutchinson is bringing one of the most quintessential components of the OG video era to the mix: a home video workout! His multi-part rewind-inclined workout program premieres tonight at Spectacle Theater in Brooklyn, NY with two screenings via VHS, one beginning at 7pm and the next at 10pm. It's just $5 at the door.
Hutchinson in action soaking wet with analog aesthetics. You can see much more RIGHT HERE.
In his own words, "Matthew J. Hutchinson is a world-class fitness star who is ready to share his lifetime of fitness secrets with you. Formulated by Hutchinson, WALTZ VOL. 1 - Body Basics is an easy-to-follow, intensive body-shaping program for both men and women. Hutchinson leads you through the regimen that's perfect for your individual body type with his special brand of motivation." So what's WALTZ VOL.1 – Body basics all about, Tapeheads? What can you expect from this rewind-inclined workout regimen? Hutchinson elaborates: "This uplifting tape gives you a great low-impact 65-minute cardio workout as you lift those weights to such favorites as "ICE SKATING", "CAROLINE", and "HORSES + HORSES"! With enthusiasm and energy, will have you raising your hands and your voice while you dance your way to better health, fitness, and weight-loss. So stretch and shake it out as "MUSCLES II" gets your body moving and your blood flowing.
A peek at the Deluxe version of WALTZ VOL. 1 BODY BASICS, that will come with a custom pink TV/VCR combo. Now that's VHSexy.
Arriving Spring 2017 via Fruity Records, WALTZ VOL 1 - Body Basics will include the VHS releases, Deluxe Edition pink TV/VCR combo packs, 12" Vinyl, wet-look thongs, and digital audio formats. You can pre-order your copy of WALTZ VOL. 1 – Body Basics today by calling our discreet private hotline 1–442–XXX–HUNK. CALL NOW! In closing, Hutchinson wanted to share this with all you Tapeheads out there: "Remember it's not just about being the strongest; it's about being the sexiest! Jumpstart your sex life with your body!" You can keep up with all of Matthew's artistic and analog-inclined endeavors via the Official Fruity Records website, Fruity Records Facebook and Hutchinson's Instagram!
**Disclaimer** Always consult your physician before beginning any exercise regimen. WALTZ VOL. 1 – Body Basics has not been evaluated by the FTC, FDA, or any other government agency. This information is not intended to diagnose, treat, cure, or prevent any disease. WALTZ VOL. 1 – Body Basics is presented as is, without warranty or guarantee of any kind.
Groove and Groove and Do It With Attitude, Dude.
Josh Schafer
---