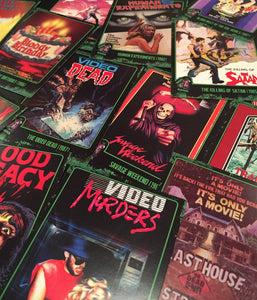 LUNCHMEAT Proudly Presents VIDEORAMA! A Super Limited Edition Trading Card Set Featuring a Spectacular Selection of Killer VHS Cover Art!
Prepare yourself for some tape trading of an excitingly different variety, Videovores! LUNCHMEAT is absolutely VHStoked to present an extremely limited edition rewind-inclined retro mash-up like you've never experienced before: VIDEORAMA VHS COVER TRADING CARDS! This series of limited press trading cards celebrates some of the most spectacular slabs of home video horror to ever assault your eyes from a video store shelf! What's on the back of the cards? That would be tidbits of information on the movies, video releasing labels and the tape's place in the VHS collector world! Too groovy! The HORROR series of VIDEORAMA is strictly limited to just 50 sets of 36 trading cards.
There they are, Tapeheads! The full package for the Limited Edition VIDEORAMA VHS Trading Cards Complete Set! Only 25 exist, dude!
Only 25 Limited Edition complete sets are available, housed in a clear acrylic case affixed inside a large black clamshell with full-color artwork, exclusively available via the Lunchmeat store! What happens to the other 25 sets? Good question, Tapeheads! We will be randomly inserting a few cards into every LUNCHMEAT order for FREE while supplies last! Yeah! That means if you order anything from stickers to a shirt to an issue of LUNCHMEAT Magazine, you're gonna get some FREE VIDEORAMA trading cards, dude! Dig it!
A peek at some of the cards from VIDEORAMA! Yeah, that reaper dude is pointing at you! GET SOME!
These are a strict limited edition and are never to be pressed again, so once they're gone, they're totally history, Tapeheads! Nuff VHSaid!
Groove and Groove and Got 'em, Got 'em, Got'em, Need 'em, Got 'em!
Josh Schafer
---