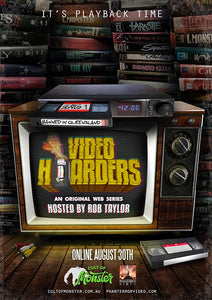 Australian VHS-Centric Web-Series VIDEO HOARDERS Debuts First Episode via Cult of Monster! WATCH NOW!
It goes without VHSaying that the rewind way is a worldwide practice, and the ardent affection for the format has recently taken shape in the land down under with a brand new VHS-centric web-series called VIDEO HOARDERS. Created and hosted by Rob Taylor, the first episode is now available via MonsterPictures.com (clickity-click that hot link to watch, man!), and follows Rob as he travels to Lara, Victoria and peruses the collection of fellow Tapehead Jamie Tate. Throughout the episode, they talk the joys of tape and ogle sexy slabs of Aussie analog like Evil Dead, Scalps, Nightmare and The Video Dead, and explore Tate's favorite releasing labels, including the illustrious Palace Explosive Video. The tail end of the episode features yours truly (Josh Schafer) as I profess my love and obsession for an obscure yet exemplary American budget releasing label called Star Classics, who arguably unleashed some of the most amazing American video cover art of all-time.
VIDEO HOARDERS is ready to be watched, Tapeheads! Those are some radical stacks in the back, man.
You can get the full details on this 12-episode web series, see an interview with VIDEO HOARDERS creator and host Rob Taylor, and get the full first episode by visiting MonsterPictures.com, Videovores!
Groove and Groove and Let's Get Melted.
Josh Schafer
---