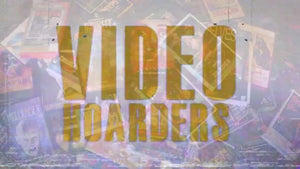 Aussie Indie Filmmaker Rob Taylor Prepares to Release VHS Collecting-Centric Web Series VIDEO HOARDERS! Click for Full Interview with Rob and a Look at the Teaser Trailer!
VHS-driven television (or more accurately described as rewind-inclined web series') are starting to crop up across the limitless landscape of the world weird web, Tapeheads. Shows like the exceedingly cool and fantastically fun VH ED The Undead VHS which features a groovy character design that fans of Wake Rattle and Roll will instantly adore, and the recently debuted LUNCHMEAT / SICK SLICE CINEMA production Luther's MidFright Snack are both oozing with that affection for our favorite analog medium. But with his upcoming series Video Hoarders, Aussie filmmaker Rob Taylor is bringing the home video collecting hobby to the forefront, aiming to explore the thrill of the hunt and the reasoning behind the vibrant VHS obsession. He's currently establishing himself as an experienced purveyor of Ozploitation as evidenced by projects like The Miner and Human Garbage, and his early love affair with the format has shaped him to proper form to deliver an interesting, informative and exciting look at modern VHS collecting culture. Read on, my fellow Tapeheads, and get ready for a look at some outstanding analog-inclined dudes from down under…
HeEeeEEre's ROBBIE! We don't actually know if people call him Robbie, but the nod was just too good. Either way, dig it.
Tell us a little about yourself and your creative career. What got you started making movies and visual content? I live in Melbourne, Australia. Completed a degree in film a couple of years back and make original genre films and documentaries. Here Down Under our genre film industry is pretty average at best, and being a massive horror movie buff and creative since I can remember I figured it was time to shoot my own stuff. My background is in music where I was vocalist in a metal and grindcore band, touring with bands such as Testament, Obituary, Darkest Hour, Job For A Cowboy, Psycroptic and more. Tell us about your new series VIDEO HOARDERS. What inspired you to create this show? I've been collecting tapes since the age of 10, mostly 80's horror and action films, and thought it would make a great short-form show, instead of an in depth feature documentary, where we can all be nerds and show off our collections. The series is still in production. You can watch the trailer at phanterrorvideo.com
What can people expect from an episode of VIDEO HOARDERS? VIDEO HOARDERS is a short web series that documents people, like you and me, and their VHS tape collections. Covering the genres and labels they love to collect, where they go to find more tapes, their love of cinema in general and bloody entertaining reenactments.
Scott and his incredible collection. You can learn more about Scott's analog inclinations with this past LUNCHMEAT interview!
Your first episode is all about Aussie collectors, which makes perfect sense since you're based there! However, do you plan on featuring other VHS collectors from around the globe? If so, how would you go about doing that? The process? There will be a viewer submission segment, where anyone in the world can take a short video of themselves with their favorite tapes and send them in to be featured in the show, that way we can feature tapes from across the globe as well as in-depth interviews with Aussie collectors. I would love the opportunity to travel and feature in-depth episodes from across the globe, but that would be pretty costly. VHS collecting and culture has continued to flourish over the past few years. What's your take on that surge of recognition and popularity, and what kind of changes have you noticed within the culture? I think it's great that people really cherish the nostalgia of the format and that's really what the show is about. I really cherish the memories and appreciate having experienced the VHS industry at its peak while growing up. I think it's something that is going to stick around especially as the need for physical copies of content becomes less essential to a lot more people.
The other rewind-inclined mind that will appear in the first episode of VIDEO HOARDERS: Jamie Tate! Let's see some of those slabs, man!
Where can we keep up with you and VIDEO HOARDERS? Go to www.phanterrorvideo.com for everything you need to know. The Phanterror Video website is packed with free HD genre films & documentaries such as Derek McDermott's Outback Monster Adventures and paranormal documentary series, Australian Entities. We have just launched a Patreon page where people can donate to the cause and get cool rewards like exclusive content, T-shirts, posters and more. To submit to the show you can email me at phanterrorfilms@gmail.com or add me on Facebook, Instagram, YouTube or Twitter.
It's coming VHSOON, Videovores! Bring on those amazing Aussie gimmick packaging. They had some the best, no doubt, dude.
Anything else you want to shout out to all the Videovores here in Lunchmeat Land?
Thanks to Scott Bruce and Jamie Tate for featuring their collections in the trailer. Can't wait to share Video Hoarders with you all!
We can't wait to VHSee it, Rob! Stay tuned to the Official Phanterror Films website for updates on Video Hoarders and all of other Rob's radical cinematic endeavors, man. Oh! And don't forget: you can totally submit your own VHStory to Rob for a chance to be featured on the show. And that's pretty groovy, man. Share those video treasures with the world, Videovores!
Groove and Groove and Stop the World and Melt with Me.
Josh Schafer
---