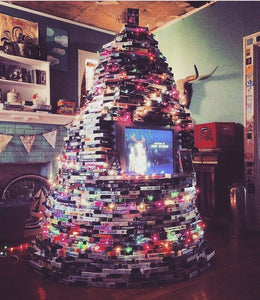 Fellow Videovore Dacoda Montana Creates Christmas Tree Made Entirely Out of VHS Tapes! Behold THE TAPE TREE!
If you follow Lunchmeat on any of our social media platforms, you're likely to have recently witnessed one of the more awe-inspiring rewind-inclined trends for this Holiday season: The Tape Tree. Yes, that would indeed be an emulation of a classic Christmas tree made entirely out of slabs of analog glory! And one of our favorite and most magnificent examples of the soon-to-be Tapehead Christmas classic, is the following creation by fellow Videovore Dacoda Montana, which is quite the VHSight to behold, dude! Check it out just below!
Oh, yeah! That IS a functioning TV and VCR nestled in there, man! Amazing.
Now that's what we call one truly awesome piece of holiday VHSpirit. We wanted to gain some insight on this most bodacious creation (which is constructed entirely out of analog elements!), so we caught up with the main brain behind this physical manifestation of yuletide celebration to get all the details on the making. Here's Dacoda with the details:
"It took about 1,000 tapes . I invited my friends over to help build it and with the help of beer and eggnog, we surprisingly pulled it off in about an hour. The first two films we watched after building it were Silent Night, Deadly Night Part 2 and Gremlins.
It's constructed of nothing but VHS tapes stacked upon each other – besides the television and VCR, of course! Those were setup first on top of cinderblocks, and once those were in place, we just built around it and boxed it in."
Sounds pretty dang simple, eh, Tapeheads! Well, with some groovy brews and a little help from your friends, anything is possible, dude! So, what are you waiting for?! We'd
LOVE
to see your Tape Tree creations, so either email us an image at
TheButcher@LunchmeatVHS.com
or tag us on Instagram and Twitter
(@lunchmeatvhs)
for a chance to be featured and have your tape tree shared via Lunchmeat's social media to help spread the joy to the rewind world!
Groove and Groove and Merry Christmas! VHShitter Was Full!
Josh Schafer
---