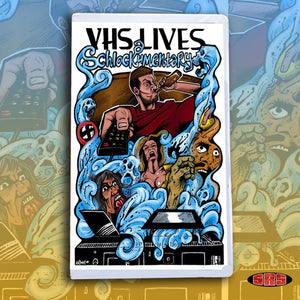 SRS CINEMA Brings VHS-Driven Documentary VHS LIVES: A SCHLOCKUMENTARY to Limited Edition Fresh VHS!
If you've enjoyed rewind-inclined indie documentaries like Josh Johnson's Rewind This! and the Lunchmeat co-produced Adjust Your Tracking: The Untold Story of the VHS Collector, and you're looking for even more insight on the scope of Tapehead and Videovore culture from around the world, Tony Newton's 2017 documentary VHS Lives: A Schlockumentary is just what the anti-digital doctor ordered. And now, courtesy of the video vindicators at SRS CINEMA, it's ready to roll right into your VCR!
A mock-up of the VHS release now available from SRS Cinema! CHUG! CHUG! CHUG! CHUG!
Released in a Limited edition of just 30 slabs (with only 15 left at the time of this posting!), Newton's VHS-centric full-length doc features anecdotes from cult personalities Lloyd Kaufman, Phil Anselmo, Mark Polonia, David "The Rock" Nelson and tons more as they explore their personal recollections, abundant affection, and modern day reflections focused on the VHS format. You can grab your copy HERE, but just in case you want a little more info, here's the official press from SRS and Newton, followed by the trailer… The new VHS documentary brought to you by Vestra Pictures/Vestra Video Directed and Produced by Tony Newton Producer of "Grindsploitation 1, 2, and 3", 60 Seconds to Die, "Schlocksploitation" and "2 Die For".
This new VHS documentary goes deep into the psyche of VHS collectors, SOV filmmakers and shows why the old VHS tapes you have rotting away in your loft are becoming antiques collectors pieces! The documentary shows just why VHS is coming back into the public eye and why VHS is the hottest thing of 2017 since the full beard and the boom in vinyl record sales, you may think you're hip but unless you own cult horror big box video nasties with the faint whiff of mould and the smell of old video stores you are very wrong! People love nostalgia and VHS is a big part of that, we may have access 24/7 to unlimited movies at the click of a button, but nothing replaces that feeling of going into your local Mom and Pop video store and holding that huge big box VHS tape, anticipating the movie and all the horror's it held! VHS LIVES! Long live VHS! -Tony Newton
Be sure to get your hands on this serious collectable on VHS VIDEO strictly limited edition! Only available on VHS HOME VIDEO at this time! From SRSCinema.com, stars include Troma's own Lloyd Kaufman, plus David DeCoteau, James Cullen Bressack, Jörg Buttgereit, Mark Polonia, Phil Anselmo, Tim Ritter, Dustin Ferguson, Billy "Bloody Bill" Pon, David "The Rock " Nelson and more! Artwork by Martin Trafford."
As mentioned above, this VHS release is currently the only way you can see this film via home video (you know we can dig it!), so if you're ready to delve even deeper into the scenes of contemporary VHS collector culture, be sure to groove on over and scoop this slab before they're all gobbled up, man!
Groove and Groove and Videovores Never Say Die.
Josh Schafer
---