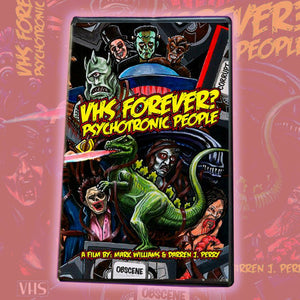 UK-Based VHS Documentary VHS FOREVER? PSYCHOTRONIC PEOPLE Offers Low-Priced 80s-Inspired "Sell-Through Edition" VHS! Now Available for a Limited Time!
UK-based VHS collecting offers a decidedly different historical scope both past and present, e.g. the Video Nasty controversy and recent VHS value misrepresentation, and if you're looking for an insightful, lovingly-built window into VHS culture across the pond, Darren J. Perry and Mark Williams' VHS FOREVER? PSYCHOTRONIC PEOPLE documentary offers just that. We originally interviewed both filmmakers here in Lunchmeat Land just about a year ago, so if you're unaware of their rewind-inclined work, you can bone up right here. It's essential Videovore viewing indeed, man. The VFPP crew originally released a PAL VHS limited to 200 copies (with only 10 NTSC units!), but those slabs have since sold out. However, only for the month of September, VHS FOREVER? PSYCHOTRONIC PEOPLE is bringing the VHS edition back with a nod to one of the most economical marketing moves of the video era: the sell-through home video version! This reduced-price VHS version features an all-new director's cut and a purportedly raucous blooper reel. You know we can dig it.
The VHS FOREVER? PSYCHOTRONIC PEOPLE VHS Release! Obscene. Corrupt. Radical.
This one-month-only deal is offering PAL VHS versions of the film, however when asked about an NTSC version, filmmaker Mark Williams said, "We can do an NTSC edition if there is a demand for it!", so be sure to
reach out and let them know
you need some of that NTSC action, my fellow Analog Americans! Here's all of the info from the
Psychotronic Store,
the official site to grab this " 80s sell-through" slab of VHS FOREVER? PSYCHOTRONIC PEOPLE:
"How does this grab you? VHS FOREVER? will be available on VHS in a cheap as chips sell-thru edition for the bargain 1984 price of £9.99, plus postage!
This version has never been available on VHS, and includes a very funny blooper reel at the end featuring James Mullinger - uncut and uncensored, too, so no showing it to the local vicar!!
Available exclusively from the Psychotronic store for ONE MONTH ONLY (until September 31st, 2016) before it reverts to the full price of £14.99
Note: price includes first class signed for delivery in the UK. International orders will be invoiced for the additional postage cost separately via PayPal
." That's it, Tapeheads!
Clickity-click this here link
to be whisked away to the only spot where you can score this slice of UK-driven analog obsession on Limited Edition VHS. They also have
DVD versions of the film.
Ya know… if you're into the sort of thing.
Groove and Groove and Get Nasty in the Basement.
Josh Schafer
---