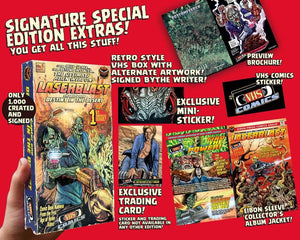 EIBON PRESS Prepares to Unleash VHS COMICS! Comic Book Expansions of Cult Classics LASERBLAST and MANIAC! Exclusive Interview with Writer STEPHEN ROMANO!
Chances are the names Shawn Lewis and Stephen Romano are already bumping around your rewind-inclined minds, Videovores. Lewis, who is the main brain behind the staple horror shirt shop Rotten Cotton, and Romano, who is responsible for the outrageously fun faux-horror flick compendium Shock Festival alongside some work within Masters of Horror, are two dudes that have been grinding in the contemporary horror sphere for their share of years.
But what you might not know, is that these guys are total Tapeheads. And now, with their Eibon Press banner (which released those killer Fulci Comics adaptations), they're prepared to unleash a combination love letter and legacy continuation for two cult film classics via their new imprint called VHS COMICS. Made for Tapeheads, by Tapeheads, and done with an enormous amount of affection for the format, VHS COMICS aims at your brain with a driving spike of innovation to re-animate the classic LASERBLAST and MANIAC story arcs in a fresh, fulfilling fashion. They're also huge proponents of physical media and analog aesthetic, so you know the packaging for these bad boys is apt to be absolutely gore-geous. But don't take my word for it, Videovores. You can get your eyeballs on what VHS COMICS has to offer with the video below, and gain more insight on the entire enterprise with an exclusive interview with writer Stephen Romano. Read on, my fellow Tapeheads, and explore the vision of a comic book becoming a VCR…
LM: Can you tell us about the inception of Eibon Press? How did it all come together?
SR: My partner Shawn and I have been working together in some form or another since the late 90s, doing all sorts of weird stuff. We had these Lucio Fulci-themed horror comic projects that we had started back then but never really finished properly because we both got busy with more "sensible" careers. He got into making t-shirts with Rob Zombie and others and he saw great success from that, while I went on to be an author and screenwriter, working with guys like Don Coscarelli and the SAW twins Patrick Melton and Marcus Dunstan. Along the way, I did something you might have heard of called MASTERS OF HORROR with Don . . . and my own SHOCK FESTIVAL project, which was a massive "mockumentary" book featuring tons of faux movie poster art. I really came into my own during that time as a graphic designer and author. I started working professionally, doing film posters and stuff. Many years later, Shawn suggested we get the Fulci comics going again because we had started working on a movie called BOTTOMFEEDER which never got made, but we ended up doing it as a comic series. We decided to use the Fulci Comics and BOTTOMFEDER comics together as a way to jump start a little publishing company. But I didn't want to do it---neither of us did---unless it was something unique, something really worth taking to the mountain, you know? We wanted our books to be all ANALOG, not on digital platforms. Which seemed like commercial suicide to a lot of people. But we knew that if we did this thing right, we could combine the analog collectability of things like Mondo products with top notch comic production. So I became the artistic director/head writer and Shawn handles the unique business side of it, bringing his years of experience as a mail order guy. Our comics are only available through our website. But they are also the most unique and collectible comics out there. We make sure of that. Nobody is doing what Eibon does. Period. Check us out at our website to learn more about why that is.
A look at ZOMBIE #2 from Eibon Press. See more here, dudes.
Your newest line under the Eibon banner is VHS COMICS. Can you explain what that really means, and how you're applying the VHS aesthetic to these comic adaptations cult classics? Are there scanlines, blip and glitch work?
Yes. All of that. And more! But we do it in a balanced, tasteful way that combines a cool VHS approach with quality art and storytelling. The idea is that each issue begins in a cosmic Video Store From Hell, where time has been frozen and we're still basically in the 1980s. But it's a bizarro-world 1980s, where really anything goes. You come into the store and meet the clerk---which is a different weird monster or zombie or alien creature in each new issue---and he (or SHE!) brings you into the world of VHS COMICS. You turn the page and the video starts up, and yeah, we have all the static and scanlines... but then, hold on to your asses, folks, because from there anything can happen! And we don't allow the VHS aesthetic to completely run the show, once the story starts. The first ideal we uphold at Eibon is great storytelling. So the idea is to pick some films from the VHS era that were very beloved and re-invent them in innovative, new ways as incredible serialized comic book stories. LASERBLAST and MANIAC were perfect because we get to do shlocky sci-fi and hardcore horror. But we're not mocking any of it. I'm a serious writer and I treat this as serious work. The adaptations and the art are really the best we've done so far. Then, when the comic stories end, you see the tape turn off and we actually run credits, as if you've just finished watching a movie... and then you get a wealth of articles and rare photos and behind the scenes stuff, all in a mode that VHS freaks like us will really like. For example, in the first ish of MANIAC, there's an intense, epic-length interview with MANIAC director William Lustig, in which he details his navigation through the VHS era, telling exclusive never-before-heard stories. It's an entire comic book magazine imprint designed for Tapeheads! And also, because this is Eibon Press, these are analog-only comics, which makes them super perfect tributes to the VHS era.
An advert for MANIAC #1 from Eibon's VHS COMICS. Lookin' GOOD, dude.
You're working with some killer artists. Can you name who's doing what with the VHS Comics releases?
Pat Carbajal and Fatboy are the interior art team on VHS. Pat is an incredible discovery - just a fantastic fan of this stuff and one of the best artists out there. He does the pen and ink work. And he does it amazingly well. He is the best artist I have ever worked with. He LOVES Joe Spinell (the MANIAC) and always draws him perfectly . . . and he gets those turtle aliens from LASERBLAST perfect too. "Fatboy" is the pen name of Chris Hall, who does the colors and effects, which are always incredible. And he's a Tapehead from way back, too, so If I tell him I need some scan lines on something, he knows exactly what to do! We've been working together a while and we've got a good team going in Pat and Chris. They just rock. I try to use them on all our most important books. We also have a couple of industry superstars KYLE HOTZ and JASON MOORE doing covers for us too. They are amazing! Chris does their colors also. Kyle and Jason do stuff like THE PUNISHER, so they bring some "industry class" to the table, and Kyle's version of some of this stuff is just way out! The hallmark of the VHS age was top notch art up front, so we definitely keep that tradition alive with these guys. It's the best team we could have!
LASERBLAST is back in comic form, baby! No filler. Just cover to cover killer.
Your newest addition to the VHS comics package is a full-color original slipcase sans a tape. Can you tell us more about that, and how it fits into the delivery for VHS Comics (both physically and aesthetically)? You pack some other goodies in these packages, right?
Well, every Eibon comic is automatically the coolest comic on your shelf because it comes in a standard slipcase we call THE EIBON SLEEVE. It's basically a record album jacket that encases the entire comic book and makes it super special. We always add some additional awesome extras inside the sleeve, like bookmarks and stickers and stuff... and with VHS COMICS we had to do something extra cool. So I designed these retro vintage style VHS boxes, which are exactly like the kinds that LASERBLAST and MANIAC came in, back in the day, when packaged by Media Home Video . I designed them myself and even used some of the exact graphics from those releases. The front covers feature alternate cover art by Pat Carbajal and Chris Hall, which is just stunning... Plus, I personally autographed each and every one of these. You get those, plus stickers and trading cards. The VHS covers come inside the Eibon Sleeve flat, but they are glued and pre-scored just like the real thing and are ready to be assembled... so the idea is for fans to pop them into three dimensions and display these bad boys on their shelves with all the other VHS tapes they own. They are so authentic you can even put a blank tape inside each one...and I made them all look weathered and aged, so they would fit right in on your shelf! THAT'S how we tie all this together with the films and the collectors in a very real way. And the best part is that since these are ongoing comic series and we plan to have VHS boxes in EVERY ISSUE, you'll have to make a whole VHS COMICS section in your analog man cave. Each box corresponds with a different chapter in each series. You'll have a whole row of 'em in a few years! I mean, how cool is that?
A look at the comic cover, "The Eibon Sleeve" and the VHS slip that comes with the first issue of MANIAC from VHS COMICS. Dang. Radical, man.
It's pretty dang cool, Stephen! So, why go with VHS to create a sub-brand for Eibon? What was the inspiration behind this?
Well... as I mentioned, this line of comics is aimed right at the hardcore VHS guys out there. They are guys like US, who are analog loyalists. This was something special we knew we would have fun doing and appeal to them. The bottom line is VHS guys are hardcore collectors, and Eibon puts out hardcore collectors' items... so it made sense to have an entire sub-imprint devoted to that and to them. If it was me, I'd want every issue of these fucking things! In the end, we're real big on innovation... and this is a way of innovating that honors our past. To be honest, I'm actually kind of amazed no one has ever thought of doing something like this before.
What are your thoughts on the expansion on VHS culture over the past several years? Did it influence your decision to create VHS COMICS?
Of course it did! We are very much a part of all that. Look, Shawn and I are both in our late 40s. We're not tourists. We were THERE to see the whole Beta/VHS thing happen and experience it first hand---and we still have HUGE collections of all the old VHS stuff. We love blu-rays and HD and all that... but we have a certain perspective on the First Age of Home Video that's somewhat unique during a time when the 1980s has become the Fabulous Fifties for a lot of millennials and young adults. So this is not some quick cash grab. We're in it for the long haul, and were here to make comic books that honor the VHS culture and help to deepen and expand it in a unique way that also allows us to be progressive storytellers and historical preservationists. To that end, we are inviting Tapeheads the world over to not only join us in collecting the books, but to send us your thoughts, your ideas, your proposals for new features, interviews and other things we can do in the issues. MANIAC #1 and LASERBLAST #1 both feature some great writing on VHS culture by Joe Fay, who is a die-hard collector. I invited him because he is a friend and I know how special all this stuff is to him. He LOVED the final books when he saw them, by the way. Thought it was a great start! Incidentally, Bill Lustig himself loves these comics too. He's been very supportive. I cannot understate how happy that makes us. The ARTISTIC GOAL is for each issue is to honor the fuck out of these films and the beloved characters they brought us... but also to deepen, expand and re-invent them in new ways that we think the fans and their creators will like. When the director himself comments on how much he digs that expansion, it's all worth it. And again... we're totally listening to the fans. What do YOU want to see happen next? Let us know!
Lookie at all that groovy stuff, man! You can grab the signature special edition right HURR.
Where can we pick up VHS Comics?
Only at our website. They are not available in any store. We print them and assemble them by hand, then ship them directly to you. The first two issues, both LASERBLAST and MANIAC, go on sale October 13th and will ship next month! (ED NOTE: They're available RIGHT HERE!) And I might add that Shawn's mail-order operation is second to none. We have a perfect track record of completely satisfied customers and a loyal readership that's been building over the course of a year and a half. We also don't price gouge. It would be real easy to charge something insane for this type of collectible book. But we keep it affordable, so everyone can be a part of this. That means we make less money... but what we get back for it is very valuable. And that's a reputation as some of the hardest workers in comics with true and lasting RESPECT for our customers and fan base. I mean, I went to get LAST JEDI tickets yesterday, and they wanted THIRTY DOLLARS for a first showing seat. What the fuck is that? Does Disney need the money so bad they have to bleed every fan bone dry on day one? We don't disrespect our readers like that. It's bullshit.
Hey, man, we feel you (and agree) on that! What's next for the VHS comics line?
Well, its a bit frustrating because we have TWO AMAZING TITLES coming up that are VHS fan nirvana.... but we can't announce them yet because the ink hasn't quite dried on the contracts at this time. But let's just say we're gonna really blow you away with the next wave. It's fucking amazing. Plus, there's a MAJOR surprise in the next issue of MANIAC, which we'll be announcing on HALLOWEEN NIGHT at our website and on DREAD CENTRAL. It's a real milestone in horror movie comics. Both LASERBLAST #2 and MANIAC #2 will be out early next year. We take our time and put out fewer issues every year because we really believe we're doing this with more passion, dedication and love than most anyone else.
You can't rush perfection, man. Anything else you want to shout out to all the Tapeheads eyeballin' this analog-obsessed slice of internet?
I think we've covered it pretty well... but let's just say this again to finish up: We're all in this together. Check out what we're doing and let us know what you think. We want this to be a by-the-people-for-the-people comic imprint and we can't do it without YOU. So come be a part of it... and we'll see you at the Video Store From Hell!
Hey, you know we can dig it, Stephen! So what are you waiting for, Videovores? Groove on over to the Official Eibon Press site, and VHSee what all the fuss is about! The first two issues of VHS COMICS featuring LASERBLAST and MANIAC are available to order RIGHT HERE, RIGHT NOW, and are set to ship the second week of November. And don't forget, Tapeheads: Tell the Eibon boys what ya think! You can contact them via their Offical site with any ideas, notions, and recipes for groovy foodstuffs, dude! They seem like they know what's up, and you know as well as I do, when you're watching VHS, you just gotta snack, man. Don't forget to tell'em LUNCHMEAT sent ya!
Groove and Groove and I Warned You Not to Miss These Comics, Dude.
Josh Schafer
---