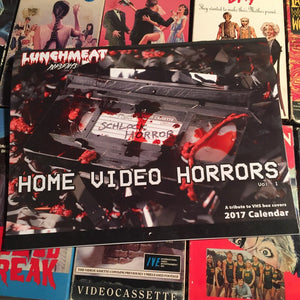 LUNCHMEAT Proudly Presents HOME VIDEO HORRORS: A 2017 Calendar Tribute to Horror VHS Cover Art Featuring the Photography of Jacky Lawrence! Limited to 50 Copies! AVAILABLE NOW!
It's almost 2017, Tapeheads, and if you're looking to kick off this New Year in an absolutely radical rewind-inclined fashion, you've come to the right place, man. LUNCHMEAT is proud to present HOME VIDEO HORRORS Vol. 1: a 12-month, full-color 2017 calendar paying tribute to a selection of the most seminal and spectacular slabs of analog horror ever to exist on those video store shelves of yore! It's limited to just 50 pieces, and it's available RIGHT NOW! Just clickity-click this here hot link!
There she is, Tapeheads! The HOME VIDEO HORROR 2017 Calendar! Groove to the VHStore to see more and grab yours!
Featuring phenomenal photography from artist Jacky Lawrence (of Charming New Society), each month vibrantly celebrates a different video cover, thoughtfully set in a scene reflective of the film's content!
A peek at the month of February featuring none other than PSYCHOS IN LOVE! OF COURSE! Grab the calendar here, dudes!
The date grid for each month is also amped up with groovy celebration indications for an array of special days from National VCR Day to Potato Chip Day to Elvira's Birthday! What's more, there's also a bunch of fun home-video-driven trivia peppered throughout the months! Dig it!
November celebrates that slimy slab of fowled-up mutant murder BLOOD FREAK! Bring on the VHStuffing, man!
This calendar measures approx. 8.5 X 11 inches closed and 17 x 11 inches opened. Printed on high quality, full-color semi-gloss paper. LIMITED TO 50 PIECES. Grab one on the LUNCHMEAT VHStore before they're all gobbled up, Videovores! That empty wall space next to all your tapes will thank you!! Celebrate the gory glory of VHS horror and VHSave the date all year long, Tapeheads!
Groove and Groove and There's No Time Like the Present.
Josh Schafer
---