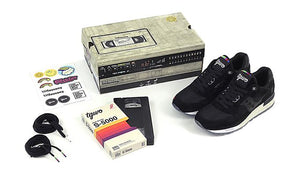 THE GOOD WILL OUT and SAUCONY Pair Together to Offer the Shadow 5000 VHS Shoes! Coming August 5th!
Sure signs of the rewind revolution are popping up everywhere, Tapeheads. Appreciation and affection for our favorite format has officially invaded the mainstream, with heavy-hitting retailers like Forever 21 carrying a VHS-shaped purse and Target offering VHS-centric shirts this past year, and most recently dishing out some official Blockbuster Video threads featuring a battered rental card with the analog-era adage, "Be Kind, Rewind!" Even Vans has dabbled with some VHS love, featuring a videocassette on a recent pair of slip-ons. But running shoe stalwarts Saucony are now kicking it up a notch with the newest version of their Shadow 5000, a collaboration with The Good Will Out that pays homage to VHS with tremendous style. Or as we like to call it here in Lunchmeat Land, VHStyle, man!
Some detail shots on the Shadow 5000 VHS release. Those clear soles? Bitchin.
Along with the VHSaucony logo across the back heel, topped with those classic color test bars and embroidered VCR tokens along the front of the shoe, the Shadow 5000 VHS variant shoes come housed in a box made to look like a VCR, and also comes with a VHS tape done up in home dub style featuring an unnamed 80s movie. You can read through all of the design details and get a thorough look at these new rewind-inclined kicks via the The Good Will Out store.
The complete package for the Shadow 5000 VHS shoes release. It's real, man. And it's too groovy.
TGWO and Saucony are also offering a shirt and hat with the same analog-loving aesthetics to complete the look. The Shadow 5000 VHS shoes are an exclusive in-store release for The Good Will Out storefront in Cologne, Germany, set to drop on August 5th, with any remaining stock to be offered online via their store. Finally, the rewind-inclined world can slip their tape-lovin' tootsies into some radical badical VHShoes. Total tape nostalgia engage.
Groove and Groove and KICK IT!
Josh Schafer
---