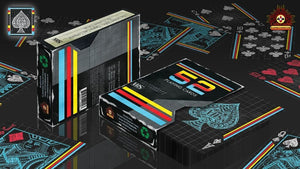 VHS Playing Card Decks are Coming, Tapeheads! Contribute to the Kickstarter and Score a Deck for Yourself! All the Info, Campaign Link and Images!
With the rolling resurgence of our favorite format, the almighty VHS has continued to inspire an impressive array of analog-inclined creations such as VHS stash boxes, an avalanche of pins and patches, radical apparel and even a hand-carved VHS coffee table! But rewind-inclined entrepreneur Steven M. Guistolise and his company Collectable Playing Cards are in stride to bring a new VHS-driven project to the table. They're currently running a Kickstarter campaign asking for assistance in the production of some absolutely radical and retro-soaked VHS-themed playing cards! Here's a look at the full concept just below, Videovores…
The full concept for CPC's VHS playing card project. Hot damn, these are VHSexy!
The box for this analog-inspired deck from CPC is modeled after the essential style of those early-era signature side-loading blank tapes, juiced up with neon colors and given some of that inevitable edge wear. The attention to detail on the packaging concept is outstanding… and the best thing? This deck of cards will actually load from the side just like those classic videocassette blanks from the 80s! Too groovy, man.
Another conceptual mock-up of the card box. VHSolid.
The royals and numbered cards for this deck are equally pleasing in aesthetics, impressively blending together a fun, retro-neon 80s look with a super-clean and classic playing card layout. It's really a superb synergy of both elements; I especially enjoy the scribbly nature of the illustrations as a nod to the often handwritten titles on home dubs, and I also really dig how the VHS symbol makes a central appearance on the Ace. You can take a look at samples of the royals and number cards below!
This is some retro-fied rewind radical, indeed. Clickity-click to get a closer look, Tapeheads!
The jokers also have a clean and classic feel to their design while the backs of the cards bring it on home and feature an actual VHS tape, solid and simple. Or should that be VHSolid and VHSimple? Yeah, it should be. Either way, you know we can dig it. Here's a look at one of the joker cards, and a sample of the card back.
No joke, Videovores. These will rule. Groove on over and get 'em, man!
This campaign is almost at their goal
with just over 20 days left, so go double down, Tapeheads, and
secure your pack(s)
of these most excellent slabs of hand-held entertainment by contributing to the Kickstarter! These are sure to be totally dope decks of classic gaming that every Tapehead should have on hand for their next analog-inclined gathering. Now, how about a little VHStrip poker, anyone?! C'mOoOON! ANYONE?!
Groove and Groove and Deuces are Wild, Dude!
Josh Schafer
---