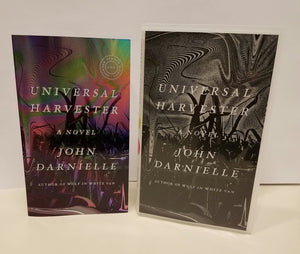 Advance Copy Review of Video Store-Driven Fiction Novel UNIVERSAL HARVESTER by Author John Darnielle!
Books centered on VHS and video store interest have established a notable presence over the past few years, with titles like Portable Grindhouse, VHS: Absurd, Odd and Ridiculous Relics from the Videotape Era, Thomas Hodge's VHS Video Cover Art and the scholarly slab from author Daniel Herbert Videoland making their way to Tapeheads' shelves. As for original fiction featuring aspects of video rental and VHS affection, however, those types of stories are seemingly few and far between. Though there is Andrew Bonazelli's DtV (which also came packaged in a VHS clamshell) along with the upcoming release from Past Midnight Publishing entitled Video Store penned by Matt Madigan, themes of video era fascination don't seem to enter the wide world of fiction as much as one may think. Cue John Darnielle, a noted musician (the Mountain Goats) and novelist native to Bloomington, IN. His newest novel Universal Harvester focuses on an intriguing mystery occurring within a mid-west video store circa turn-of-the-century, with characters trying to link together bizarre clips that lay hidden within the multitude of rental tapes. We're VHstoked to feature guest writer Missy Mazzaferro here today in Lunchmeat Land with her notions on Darnielle's Universal Harvester, due out in early 2017.
UNIVERSAL HARVESTER novel to the left, and the VHS case that comes exclusively with the advance reader copies to the left. That book cover, man!
Jeremy works as a clerk at Video Hut in Nevada, IA, and recently his customers have begun reporting strange footage on the tapes they've rented. Jarring scenes of hooded women in a barn are inserted before abruptly returning to the film. The mysterious and unsettling footage begins to reveal clues forming a fractured narrative across other tapes for anyone who is brave enough to keep looking. The scenes end quickly before returning to She's All That or Targets. Equal parts mystery, coming of age tale, and ghost story, Universal Harvester by John Darnielle is a novel that encapsulates an important moment in American film culture and introduces us to a group of people in Iowa who can't forget what they've seen. The inclusion of VHS rental culture will surely resonate with readers of Lunchmeat, but the backdrop is not arbitrarily selected to satisfy nostalgia. This setting is crucial to the plot and to the progression of the narrative. Universal Harvester is a story that could not be told outside of the video store. This book is a time capsule, a memory for those of us that are the right age to remember hearing urban legends about adult movie clips being recorded over Disney Animated Features before going through the return slot. The exciting thing about VHS is that is can be changed. A permanent record can be erased and a new story can occupy that same space, but the ghosts remain.
A view of the side spine for the VHS case advance copy of John Darnielle's UNIVERSAL HARVESTER. You know we can dig it.
Darnielle demonstrates an intimacy and fondness for video culture which builds a sense of era-appropriate authenticity. A less-experienced writer might fall back on writing about the way things "should have been", namedropping a lot of horror and exploitation tapes, but he is sure to include titles like Varsity Blues, Against All Odds, and Fresh Horses in the Video Hut inventory - the kinds of movies your parents might rent. This book will appeal to those who haunted the small local video store alone on Friday nights scanning for a tape they hadn't already watched. Places like this are good for lonesome people. Similar to Darnielle's first novel, Wolf in White Van, Universal Harvester will speak to lonely readers. Wolf tells the story of a young man named Sean who disfigured himself in a failed suicide attempt. As a way to earn a living and pass the time, he creates a through-the-mail role playing game. Sean's reclusive days are spent completing methodical and solitary work for players who are very likely also by themselves somewhere out there.
The advance copy neatly tucked into the tape case. Trippin' on that groovy cover, Tapeheads!
For some, video stores also exist to help people ease their feelings of loneliness - though Jeremy is not particularly well suited to this role. He's a bit too old to work this job, still living with his father after losing his mother in a car accident 6 years ago. It is worth mentioning that the lack of a maternal figure leaves no shortage of strong women in this book. A feminist undercurrent flows through this novel, as it is the female characters who consistently lead the action. Male characters are motivated by fear, preferring to ignore the tapes and bury their curiosity. Meanwhile, women are eager to dig deeper, keeping notebooks and charts, piecing together clues, and springing to action while their male counterparts encourage them to leave the tapes alone. There is an omnipresent sadness hanging over the events of this story due to the fact that the reader has the misfortune of knowing there will be an end to the life Jeremy knows. This story is set in 2000. In 1998, Netflix had already begun sending discs by mail to its customers. By 2007, they introduced their streaming service, and the last few remaining video stores would lose their footing in an already dying market. Even Blockbuster, the grand-daddy of them all, could not survive. This knowledge creates a sense of foreboding that urges characters to solve the mystery on these tapes soon, because we know it will all come to an end in a few years. For people who spent hours walking aisles filled with tapes, touching the spines, and pulling out something strange, this book will warm you. For those who sat behind the counter passing 8 hour shifts with an endless loop of "family friendly" movies playing on the in-store television between the long silences, you will find a lot to love here. For the rest of you, you're in for a beautiful, atmospheric thriller - and if you're anything like me, you won't be able to stop turning the pages. I was lucky enough to score an advance reader copy of the book which arrived from the publisher cleverly packaged in a VHS Clamshell case complete with "Be Kind Please Rewind" stickers on the spine.
Universal Harvester
will be released in hardcover (without the VHS case) by FSG on February 7, 2017 and can be bought everywhere books are sold. An excerpt of the book is available online at:
http://www.vice.com/read/universal-harvester-an-excerpt-from-john-darnielles-new-novel-v23n07
And if you want more of Missy, check out here home base on the World Weird Web!
Groove and Groove and Stay Rewind Weird.
Review by Missy Mazzaferro
Introduction by Josh Schafer
---
200 comments