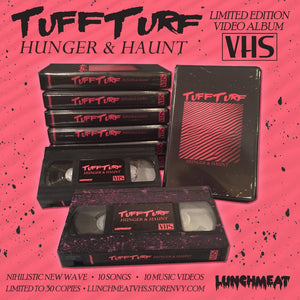 LUNCHMEAT Proudly Presents the TUFF TURF - HUNGER & HAUNT" Video Album on Limited Edition VHS!
The Tapeheads out there who steadily stay tuned in to our analog-obsessed slice of internet are likely to recall when Lunchmeat offered the exclusive debut for TUFF TURF's fully shot-on-VHS music video "Out on the Streets", which you can revisit by clicking this here hot link. If you dig their dark, moody and radically resonant style of neo-new wave music, then you're in for one radical rewind-inclined treat courtesy of Lunchmeat! We here at Lunchmeat are absolutely VHStoked to present the full video album for TUFF TURF's powerfully pulsating and beautifully haunting album "Hunger & Haunt" in a limited edition of 30 copies worldwide, available via the Official Lunchmeat VHStore.
The total package for the TUFF TURF - "HUNGER & HAUNT" Video Album VHS from Lunchmeat. Click here to grab your slab on Oct. 6th at 5PM EST, Tapeheads!
This video album VHS release for the nihilistic new wave outfit from Atlantic City, NJ will feature all 10-songs from "Hunger & Haunt", each accompanied by their own unique music video created by TUFF TURF main brain Jeff Richie, offering a complete audio / visual experience imbued with incredible 80s-era authenticity unavailable anywhere else. The release comes housed in large black clamshells wrapped in retro-styled art, committed to classic black videocassettes, with 5 hand-splattered pink tapes randomly inserted into the run. Cross your fingers, Tapeheads, 'cause you can't request 'em! Each edition will also include a digital download code, which you'll receive via coupon within the release. You can stream the entire "Hunger & Haunt" album on TUFF TURF'S official bandcamp page, and experience an example of the video aesthetic that awaits you on this limited edition release by viewing the music video for "Out on the Streets" from TUFF TURF just below...
This release will go on sale Thursday, October 6th at 5PM EST only on the Official Lunchmeat VHStore, Tapeheads, so be sure to groove on over and grab your slab to experience this absolutely outstanding piece of 80s-driven audio / visual entertainment. CLICK HERE to feed it to you VCR!
Groove and Groove and Ride the Rewind Wave.
Josh Schafer
---