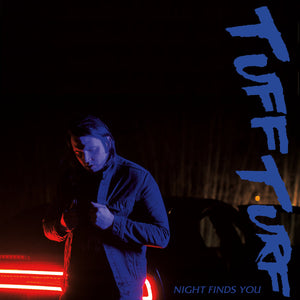 LUNCHMEAT Proudly Presents the Exclusive Premiere of TUFF TURF – TURN THE RADIO OFF Official Music Video!
Those of you who have been hanging loose here in Lunchmeat Land over the years may already be familiar with the nihilistic no-wave aural entity that is TUFF TURF and their signature brand of incredibly authentic 80s-driven musical pulsations, as we premiered their video for "Out on the Streets" and released their previous album Hunger and Haunt on Limited Edition VHS. And now, we're absolutely VHStoked to exclusively premiere their brand spankin' new video single "Turn the Radio Off" which is shot entirely on VHS. Hell yes.
So, without any further ado, we proudly present to you, the world premiere of TUFF TURF – "Turn the Radio Off' in celebration their newly released album Night Finds You, now available HERE from American Scream Records on limited edition vinyl, compact disc, and digital download!
When asked about the "Turn the Radio Off" track and video, TUFF TURF main brain Real Boy Richie posits, "The extent to which people virtue signal and skate around facts is at a ridiculous level. While hearing you all complain constantly is humorous… I really think you should consider TURNING THE RADIO OFF and thinking for yourself." Real Boy Richie VHSpeaks the Truth.
The limited edition vinyl for TUFF TURF - NIGHT FINDS YOU, now available HERE. Sexy, Sexy.
Diggin' it? We thought you would, dudes. Be sure to follow TUFF TURF on Instagram, Facebook, and Twitter for all kinds of radical updates on their upcoming tour, and peep their official bandcamp page to let their new album invade your dome and soak your brain with an incredible selection of radically retro songs that drip with a powerful 80s authenticity, apt to haunt your eardrums like a neon ghost in flight.
Groove and Groove and The Radio is Listening to You. 
Josh Schafer
---