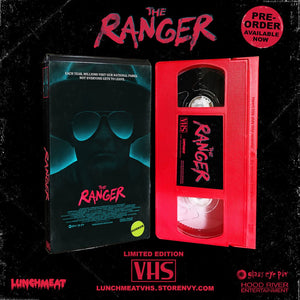 Backwoods Punk Rock Slasher THE RANGER Comes to Limited Edition VHS via LUNCHMEAT! Details and PRE-ORDER Now Available!
LUNCHMEAT is absolutely VHStoked to put our home video-lovin' heads together with Hood River Entertainment and Glass Eye Pix to bring the backwoods, punk rock slasher THE RANGER to fresh VHS! The limited edition videocassette is now available for pre-order by clicking this here hot, hot, hot link, Tapeheads! THE RANGER VHS will be committed to radical blood red and classic black videocassettes, so be sure to groove on over to the pre-order to secure your copy. Also, TWO lucky Tapeheads will receive an ultra-rare randomly inserted Forest Green videocassette variant! It's all the luck of the draw, dudes!
THE RANGER Limited Edition VHS! His Park. His Rules. PRE-ORDER HERE!
So what's THE RANGER all about? Here's a look at the official synopsis to get you through the woods: After a run-in with the cops at a punk show goes sideways, Chelsea and her pals flee the city in search of a place to lay low. Running to the security of Chelsea's old, abandoned family cabin in the woods, they fall under the watchful eye of an overzealous park ranger who holds a secret from Chelsea's past. Set to the beat of a killer punk soundtrack (Fang, The Avengers, The Grim, Rotten UK and more) and presented in eye-popping neon colors, Jenn Wexler's debut offers a modern take on survivalist horror that both celebrates and subverts the genre's tropes with equal parts humor, glitter and gore. When asked why bring THE RANGER to fresh VHS, director / co-writer Jenn Wexler said, "THE RANGER is the movie I wished I could have watched on VHS as a kid. It's set in what I like to call "1980s dreamland," an imaginary past reminiscent of '80s punk horror classics like RETURN OF THE LIVING DEAD. Having Lunchmeat create a RANGER VHS is a dream come true. Now all I have to do is time-travel back to sneak it onto the shelf of my local video store... " Did someone say time machine? We got one of those! It's called Video Vortex: a real live brick and mortar video store with 70,000 titles on disc and VHS (that you can rent for FREE!) that lives inside Alamo Drafthouse in Raleigh, NC, run by LUNCHMEAT main brain Josh Schafer! You can check out more about Video Vortex RIGHT HERE. Once THE RANGER VHS is officially released on May 9th 2019, it'll be available to rent in the VHS section at Video Vortex. Dreams do come true, dudes. A VHS release for THE RANGER feels a bit like destiny, as the very first trailer for THE RANGER pays tribute to the VHS era, starting as a grainy, square, fake PSA for Blackwood Point National Park, before the screen goes wide and the mayhem runs wild. Here's a peek at that trailer just below!
THE RANGER Limited Edition VHS is NOW AVAILABLE FOR PRE-ORDER from LUNCHMEAT with this hot link! Pre-orders will end on April 26th, and all orders will ship directly after. Grab your slab of this blood-soaked, punk rock retro slasher and get absolutely rocked in the woods courtesy of your VCR. You'll be glad you did, Tapeheads.
---