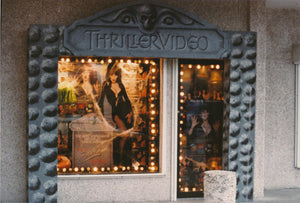 THE VISUAL HISTORY OF AUDIO/VIDEO PLUS: The Launch of Thriller Video with Elvira! [Full Thriller Video Checklist Included!]
By Josh Schafer / Benny Junko
To introduce you to this installment of The Visual History of Audio/Video Plus, we'll be rewinding back to LUNCHMEAT #7 and exhuming an excerpt from a piece by Matthew Dilts-Williams as he details and explores one of horror home video's most beloved labels: Thriller Video. We'll also offer up the full checklist for the Thriller Video catalog, complete with pricing from 2012. If you're wondering how much a copy of Alabama's Ghost was going for about 8 years ago, we got you, my dudes.
 Image courtesy of Regan Ray.
The following excerpt on Thriller Video originally appeared in LUNCHMEAT #7, written and compiled by Matthew Dilts-Williams:
Of the many VHS companies to come and go in the 1980s, one that remains nestled in the brains of horror fans and VHS aficionados alike is Thriller Video. The company's instantly recognizable skull-topped headstone logo would go on to grace the box art of almost 50 VHS releases during the company's short life. At the center of more than half of those releases was Ms. Cassandra Peterson.
In the 1980s Cassandra Peterson could be seen everywhere flaunting ample cleavage in tight black gown and wearing an equally black beehive wig, evoking her sarcastic horror hostess character Elvira, Mistress of the Dark. Her dark, sultry figure abounded in just about every form of media except for one: home video. That would change in 1985 when Elvira would sign with International Video Entertainment (I.V.E) to host their home video horror series, the one and only Thriller Video. Said to have been started in 1983 (even though its first release was not until 1985) the company put out its last VHS in 1987 and was one of the few to release the majority of its tapes in big box packaging.
Thriller Video's catalog consisted of 47 video releases in total, 24 of which featured Elvira and her hosting talents. Of the Elvira releases, half were not in fact feature films but actually episodes of the British TV anthology series Hammer's House of Horror. These releases would add previews along with an introduction and post-credits sequences featuring Elvira, bumping the runtimes up to an hour.
Beyond these 12 titles, Elvira would only host fairly tame B-horror as she was averse to hosting more extreme horror fare believing it would sully her reputation. This aversion was specifically towards hosting Buried Alive, Doctor Butcher M.D., Make Them Die Slowly, Nightstalker (aka Don't Go Near the Park), and The 7 Doors of Death, which were all released under the Thriller Video banner without Elvira's involvement.
The other non-Elvira Thriller Video releases consisted of episodes from another British TV show: a suspense/thriller movie-of-the-week style series from the mid-70s curiously titled Thriller and 7 video volumes featuring select episodes of Tales from the Darkside. The majority of Thriller Video's version of Thriller were cuts imported for US syndication in the late 70s by ABC Wide World of Entertainment, who created new titles, credits, and opening sequences for the show. Thriller Video released 11 episodes from various seasons of Thriller, usually with 2 to 3 minutes of additional footage not included in the original UK airings. Each of the 7 Tales from the Darkside volumes consisted of 3 episodes as they had originally aired (sans commercials!). Each of the TftD releases made mention of the involvement of George A. Romero (and executive producer on the show) on the box, but it was unable to garner much interest. It proved to be the twilight of the company's existence; the final volume of the tapes was the Thriller Video's last video to hit shelves.
And, as promised, here's a look at that checklist of Thriller titles featuring pricing comps from 2012… What a blast from the past!
And here is where we pass the shovel to Video Sanctum Night Manager Benny Junko, to dig a little deeper into the history of this radical rewind-era releasing label, and the spectacular faux-stone display erected to celebrate the launch of the Thriller Video home video line. The following images are the only known photos from the Thriller Video installation at Audio/ Video Plus, and are all courtesy of Benny and his archive.
Take it away, Benny!
 Image courtesy of Video Sanctum.
In November 1986, Audio/Video Plus was riding an unstoppable wave of home video consumption. Houston's Montrose residents came from far and wide to bask in the neon glow that surrounded the store's interior. Like a favorite dive, but with cool movies, Audio/Video Plus went to great lengths to keep people coming off the street and in the door with elaborate, never before attempted outdoor displays, like the one seen above.
 Image courtesy of Video Sanctum. 
 In time for Halloween, the storefront transformed into a dank, damp castle replete with haunted spires and a spiked metal overhead gate that menaced Tapeheads as they passed through the narrow entrance. Once inside, Elvira was prominently staged (her cardboard likeness rather) to greet newcomers.
 Image courtesy of Video Sanctum.
 A small table offered Thriller Video swag including popcorn pins, new releases, and a glimpse at the store's personal headshot signed by Elvira herself at a recent Video Software Dealer's Association (VSDA) Convention in Las Vegas. Less visible in these analog memories is the small TV that played a Thriller Video trailer reel on repeat to further boost the amazing roster of horror films.
 Image courtesy of Video Sanctum.
The grand gesture of Audio/Video Plus's outdoor marketing was not unlike many theaters in Los Angeles near Hollywood Blvd. and New York's Time Square. Larger than life facades, intricate in-store designs, and a constant effort to promote new experiences rather than recycled decorations set Audio/Video Plus ahead of the competition of most independent video stores operating in the U.S. at the time. This is evidenced by the store's many awards for marketing contests as well as their role as industry influencers nationwide.
 Image courtesy of Video Sanctum.
The billboards are a feature unique to Audio/Video Plus as the store hired local artists to recreate 8 ft x 4 ft replicas of popular VHS covers. Seen below is the famous Thriller Video promo poster painted in close likeness to the original. Aside from forging a market for the home video business, Audio/Video Plus was well known for supporting outsider art and culture. This castle facade, built by the store's very own creative crew, is an awe-inspiring reminder of that time.
 Image courtesy of Video Sanctum.
What a fantastic Halloween home video treat, eh, Tapeheads! Be sure to VHStay tuned to LUNCHMEAT as we continue to explore the absolutely fantastic and rich history of Audio/Video Plus! And don't forget to keep feedin' that VCR! That thing is always hungry for some tasty tapes, dudes.
---
2 comments