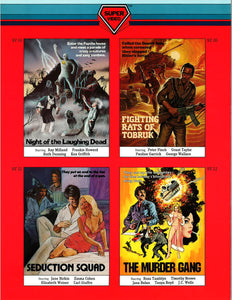 The Rise and Fall of SUPER VIDEO: The History, Details, and Complete Title Checklist for the Biggest Little Releasing Label of the Video Era
By Robert Freese
Super Video was a partnership between the Independent-International Pictures owners Sam Sherman and Dan Kennis with salesman Gary Eller. It was founded at a time when videocassette tapes were manufactured primarily for commercial use in video rental stores. For the most part, only die-hard fans bought a pre-recorded factory-sealed movie on videocassette, as the cost could be anywhere from fifty to a hundred dollars per tape.
The idea was brought to Sherman and Kennis on several occasions to supply their IIP catalog of movies for the lucrative home video marketplace. Ultimately, early offers were passed on, as the partners continued to study the market. Upon meeting Eller, a salesman from the west coast, a deal was struck, and Super Video was born.
 Image courtesy of Robert Freese
Because demand was so high, and the appetite for horror and exploitation product is constant, Super Video was a success right out of the gate. Sherman remembers bringing in millions of dollars in the burgeoning home video market, right as the business of film distribution was drastically changing for independent films looking for theatrical release. Theaters were closing up; particularly the drive-ins, but IIP's catalog was experiencing a new life on Betamax and VHS.
 Image courtesy of Robert Freese
Eller was a proponent of oversized clamshell boxes. For its first eighteen releases, The Super Video line was not only manufactured in oversized cases, but unique in that the actual front cover artwork, spine and back cover were printed directly onto a sheet of thin plastic which was then heated, contoured and sealed around the clamshell lid and tray. It was an expensive process, but the packaging was so striking that prospective renter's eyes couldn't help but be drawn to them.  As impressive as they were, the labels' nineteenth release (Night of the Laughing Dead) began the use of a clamshell box with slip-in art. Super Video now conformed to the more common packaging of the day that was embraced by labels early on such as Prism, VidMark and Warner Bros.
The line was successful beyond all initial expectations. Super Video released a steady flow of titles, both horror and exploitation. Some were released with their original theatrical artwork while brand new artwork was commissioned for others. This was practically unheard of, as most video releases usually relied on their original theatrical artwork for their box art.
 Image courtesy of Robert Freese
In the earlier days of IIP, if a film was released to drive-ins and hardtops and didn't do the business the company thought it should, Sherman would give it a new title and play up a different aspect of the film's plot with new advertising to try and make it a success. This was the practice for a number of Super Video titles, which had titles changed for home video release.
When Sherman offered Eller Girls for Rent, an action film centering on a cruel female murderer busting out of jail and going on a vengeance-seeking killing spree, Eller saw no worth in it for the video market. He wrote it off as an exploitation film that offered little more than some softcore sex scenes. What he failed to understand was that the film's mix of a menacing female villain and action was exactly what video renters were looking for!
Determined to prove his doubting partner wrong, Sherman devised a new marketing strategy by capitalizing on the notoriety of the Jerry Gross release I Spit on Your Grave. New artwork depicting a woman shooting a man in the head while engaging in a little mattress frolic would help, but it was Sherman's ingenious title-tweaking that sealed the deal. Girls for Rent became I Spit on Your Corpse and went on to become one of the most popular and successful titles in the Super Video line.
 Image courtesy of VIDEOSPACE
The lurid artwork and title change ensured viewer interest and salesman Eller sold it to seemingly every rental chain and mom 'n pop video shop across the country. It was everywhere, almost always located in the shop's horror section, right next to Grave.
I Spit on Your Corpse was so popular during its initial release on Beta and VHS, it was the only Super Video title to be re-issued when the catalog was briefly managed and distributed by Republic Pictures. 
This era of home video also exemplifies how film producers were able to generate new income while theater screens were being lost. There was a realization that an existing film library had a new worth to the video market, as people were looking to rent the same type of movies they would have gone to see at the drive-in years earlier. Only now, with most rentals being overnight and due back the following day, many folks were renting cassettes several times a week and watching more movies than a weekly trip to the local ozoner for a double bill.
Tim Ferrante, a longtime friend of Sherman's, remembers going to Tower Video in Manhattan, where video tapes were sold, and seeing the Super Video line for sale.
"Because the Super Video titles were released for video shops to purchase for rentals, Tower sold everything at the full retail price of $59.95. Video shops would get a break buying from a distributor, but collectors paid that full retail price," Ferrante says.
"There was a golden period in New York City when 'video blowout' stores started popping up," he continued. "They arrived as the industry was being flooded with titles and the rental shops couldn't keep up. The blowout stores were filled with rental castoffs, and titles that today would sell for hundreds were strewn throughout the city. The clamshell sixty-dollar rentals were $14.95 or less. And because this was the earliest days of a developing industry, the tapes and boxes were often in excellent condition. You have to remember that initially, you couldn't afford to buy these tapes. So, when the chance arrived to buy them used, you bought what you could. Schlepping around the city to the various blowout shops was very exciting because you never knew what you'd find."
He adds, "Since the Super Video titles were never offered at sell-through pricing, finding one in mint condition suggests it probably belonged to a serious collector who had the means to buy it back in the day at full retail. A rarity!"
Ferrante also noted that the production runs became smaller. He speculates that a hard-sell title like Female Animal, which went out with artwork Sherman never liked, crediting the poor artwork for effectively killing any chance of it selling, to possibly only a few hundred copies. Eventually, the partnership between IIP and Eller was dissolved, and Sherman negotiated with Republic Pictures to handle the line for distribution.
 Image courtesy of Dan Kinem
It's first release was Day of the Maniac, which is when Republic introduced Super Video's new catalog number sequence. Sherman commissioned IIP's favorite artist, Gray Morrow, to render Maniac's cover art. At the same time, the tapes increased from $59.95 to $69.95. The new deal didn't last long, ending after just three releases. Some titles were licensed by VidAmerica, Inc. for its line of "World's Worst Movies," an attempt to cash in on the unfortunate "Golden Turkey" mentality aimed toward cult films.
What was the downfall of Super Video, especially after so many prosperous years of success and growth? Sell-through killed Super Video.
As the market moved towards making cassettes affordable for anyone to purchase, appealing to collectors as well as the casual movie fan who only wanted copies of their favorite films, income fell drastically. The opportunity was no longer there to earn profits strictly from the video rental market. "We used to receive prompt payments," Sherman laments. "Now the industry wanted to pay us every 90 or 120 days. Distributors wanted us to retail at prices so low that we just couldn't afford to sustain those costs on lesser profit. Add to that the return policies and suddenly it no longer made any sense." When the shift in the market happened, Super Video ceased to exist. (Sherman and Kennis went so far as to sell the name of the company to another company known as Super Video that wanted the trademark on the name.)
Super Video was a small label that made a huge impact early in the home video business. It proved the market for drive-in exploitation fare extended well beyond the outdoor screens and ensured the films would live on in every type of home video format to be developed.
SUPER VIDEO TRIVIA!
HOUSE OF PSYCHOTIC WOMEN – The cover art was an original commission, although the artist has yet to be identified. Take a look at the woman on the floor holding a dagger. If she looks familiar, it's because she was referenced from the poster for the 1983 slasher film The House on Sorority Row. Those folks weren't pleased and Super Video agreed to mask the infringement on all copies still awaiting distribution. If you happen to have a clamshell with a square red sticker covering the "dagger girl", now you know why it's there. The sticker reads, "Bizarre...to say the least!" and the quote is credited to none other than Dan Kennis, Super Video co-founder. A very rare variant.
SUPER VIDEO SV01 through SV04 Logo – The Super Video logo erroneously included "Inc." which isn't permitted. With the release of SV05, the "Inc." permanently disappears.
I SPIT ON YOUR CORPSE – There's a famous story about cinematographer Gary Graver running across I Spit on Your Corpse at his local video shop and wondering who shot such a film. To his surprise, he realized he'd shot it, as Girls for Rent!
GRAVEYARD OF HORROR – Even though IIP purchased its film's rights several years before, the company never released it theatrically. Instead, it went straight into its TV syndication package. The 1985 Super Video tape was its United States home video premiere.
GOING PUBLIC – Sam Sherman tried convincing his partners that Super Video should become a public company. Neither agreed.
THE TWO BIGGEST SELLERS – Blazing Stewardesses and I Spit on Your Corpse top the list as the label's bestselling titles.
 Image courtesy of Robert Freese
COMPLETE LIST OF SUPER VIDEO TITLES:
The Super Video line began with deluxe clamshell packaging with cover artwork printed onto a plastic sheet that was then sealed and trimmed onto the cassette tray assembly.
SV01 – HOUSE OF PSYCHOTIC WOMEN (aka BLUE EYES OF THE BROKEN DOLL)
SV02 – SATAN'S SADISTS (Cover art Luis Dominguez)
SV03 – I SPIT ON YOUR CORPSE (aka GIRLS FOR RENT)
SV04 – NIGHT OF THE THE HOWLING BEAST (cover art Basil Gogos)
SV05 – BLOOD IN THE STREETS (aka REVOLVER)
SV06 – HORROR OF THE ZOMBIES (aka THE GHOST GALLEON)
SV07 – THE SMILING MANIACS
SV08 – BLAZING STEWARDESSES (cover art Gray Morrow)
SV09 – DRACULA VS. FRANKENSTEIN
SV10 – SYNDICATE SADISTS
SV11 – ANGEL'S WILD WOMEN
SV12 – GANG WAR 
SV13 – VIOLENT BLOOD BATH
SV14 – BLOOD OF GHASTLY HORROR
SV15 – THE LONELY WOMAN
SV16 – THE BOOBY HATCH (aka DIRTY BOOK STORE)
SV17 – WILD GIRL (aka GIRL FROM THE RED CABARET)
SV18 – TERROR OF FRANKENSTEIN
The previous packaging was modified starting with SV19 and switched to clamshell with slip-in cover art.
SV19 – NIGHT OF THE LAUGHING DEAD (aka CRAZY HOUSE)
SV20 – FIGHTING RATS OF TOBRUK
SV21 – SEDUCTION SQUAD (aka THE POWDER PUFF GANG)
SV22 – THE MURDER GANG (aka BLACK HEAT, GIRLS' HOTEL)
SV23 – MISSION TO DEATH
SV24 – HOSPITAL OF TERROR (aka NURSE SHERRI)
SV25 – THE HOLLYWOOD DREAM (aka GAME SHOW MODELS)
SV26 – FEMALE ANIMAL
SV27 – CINDERELLA 2000
SV28 – GRAVEYARD OF HORROR (aka THE BUTCHER OF BINBROOK)
SV29 – SUBMARINE ATTACK
SV30 – THE NAUGHTY STEWARDESSES
The Super Video numbering scheme changes as the partnership with co-founder Gary Eller is dissolved. These three releases were managed through Republic Pictures video, hence the new numbering. This group was the last gasp of the Super Video label.
6130 – DAY OF THE MANIAC (aka THEY'RE COMING TO GET YOU, ALL THE COLORS OF THE DARK, cover art Gray Morrow)
6255 – HORROR OF THE BLOOD MONSTERS (Cover art Neal Adams, colored by Gray Morrow)
6270 – I SPIT ON YOUR CORPSE (reissue)
I would like to give a huge thank you to Tim Ferrante who was gracious with his time and his memories and unearth more nuggets of valuable info than I would have on my own. Thanks, Tim!
Robert Freese contributes to numerous magazines and zines, such as The Phantom of the Movies' Videoscope, Rue Morgue, Drive-in Asylum, Grindhouse Purgatory and the Italian language Nocturno. He also contributes to Sam Pacino's bandsaboutmovies.com, and Dustin Fallon's Horror and Sons. He also co-hosts Two Librarians Walk into a Shelf: a podcast for the library system he works for, and uses it as an excuse to expose library patrons to slasher and ninja movies.
---
1 comment