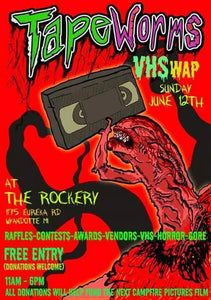 Tapeworms VHSwap is Happening at The Rockery in Michigan on Sunday, June 12th!
To all the Videovores in and around the Detroit, MI area, we've got a question: what are you doing this Sunday? You're attending the Tapeworms VHSwap - that's what! This radical rewind-inclined event is being held at the Rockery in Wyandotte, MI, from 11 AM until 6 PM on Sunday June, 12th and entry is totally FREE (which really just means you'll have more moolah to spend on a brand new stack of tapes and other groovy analog goodies) but if you are able to make a donation, the proceeds will go toward the production of the next Campfire Pictures Film – a most worthy cause, dude!
The Official poster for Tapeworms VHSwap! Check, please!
The event features a slate of most excellent VHS-obsessed vendors, including Campfire Pictures, Secret Lair, Manor Video, Rock Bottom Video, Nemesis Video, SJP Video, VWR Productions, Tony Salamone, MattressParty, Dead Beds Designs, and VHShitfest. LUNCHMEAT is co-sponsoring the event, along with the good folks at Skyline Drive-In, and there will have a bunch of groovy LM stickers and pins for all of the Videovore attendees – absolutey FREE! Dig it. For the full information and discussions on this event, groove on over to the Official Tapeworms VHSwap Facebook Event Page which can be found by clicking here!
Ted Gilbert
---