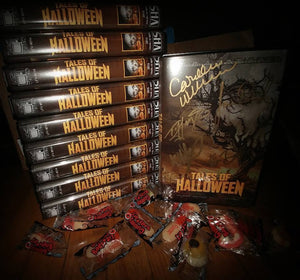 LO-FI VIDEO Brings Killer Horror Anthology TALES OF HALLOWEEN to Fresh VHS Just in Time for the Halloween Holiday!!
The video vindicating crew over at Lo-Fi Video should already be on your rewind radar for their outstanding fresh VHS editions from the past, which include some bodacious big box releases for the cult favorite Linnea Quigey's Horror Workout and the spectacular post-apocalyptic horror comedy sensation Turbo Kid, along with their more recent VHS re-animation for the radical rock n' roll slasher Rocktober Blood. And now, just in time for the most wonderfully weird time of the year, Lo-Fi is unleashing a deluxe slab of horror anthology excellence to pump up your Halloween home video playlist, complete with some groovy extras and committed to orange videocassettes (color cassettes limited to 50 copies). Tales of Halloween is now ready to invade your VCR.
A look at the TALES OF HALLOWEEN VHS with all the signatures some groovy sugar snacks. Save me an eyeball, dude!
Here's the official word from Lo-Fi Video with all of the release details, Tapeheads: Lo-Fi Video and Epic Pictures are proud to announce that the TALES OF HALLOWEEN VHS are now available for order and ready to start shipping. TALES OF HALLOWEEN is an anthology Horror film, which according to Daily Dead is "among the best Halloween-themed horror movies ever made". This critically acclaimed film weaves together ten chilling tales from some of horrors top directors. The all-star lineup includes Neil Marshall (Game of Thrones, The Descent), Darren Lynn Bousman (SAW 2, 3 and 4), Lucky McKee (The Woman, All Cheerleaders Die), and Mike Mendez (Gravedancers, Big Ass Spider!) and features cameos by horror heavyweights such as Barry Bostwick (The Rocky Horror Picture Show), Lin Shaye (Insidious), John Savage (The Deer Hunter), Adrienne Barbeau (The Fog), John Landis (Director of Animal House), Joe Dante (Director of Gremlins), Barbara Crampton (Re-Animator, We Are Still Here), Booboo Stewart (Twilight), Keir Gilchrist (It Follows), Grace Phipps (Fright Night), Pat Healy (Cheap Thrills), Kristina Klebe (Rob Zombie's Halloween), Greg Grunberg (Heroes, Star Wars), Alex Essoe (Starry Eyes), Pollyanna McIntosh (The Woman), and more. There is a limited collector's edition bundle that will feature a Tales of Halloween T- Shirt , Orange VHS tape, 2" Button, Candy (until supplies run out!), and their cover signed by all of the following people (with the chance of some surprise signatures!) - James Duval (Donnie Darko, The Doom Generation) Nick Principe (Chromeskull, Collar, American Muscle) Caroline Williams (Texas Chainsaw Massacre 2, Contracted, Sharknado 4) Elissa Dowling (Cheap Thrills, Starry Eyes) Tiffany Shepis (Nightmare Man, Tromeo & Juliet) .
**Please Note** You must order your copy no later than Monday Oct 24th to GUARANTEE the arrival by Oct 31st in the US. After that date you may have the option to pay extra for priority shipping to ensure adding this to your Halloween movie night!
Actress Elissa Dowling with her copy of TALES OF HALLOWEEN. You know we can dig it.
You can grab this radical slab of Halloween-driven horror straight from Lo-Fi on
their official webstore
or
the official Tales of Halloween site,
Videovores! Groove on over and feed that VCR what is sure to be an oh-so-sweet magnetic tape treat. You'll be glad ya did, dude.
Groove and Groove and Bring on the Righteous Bellyaches!
Josh Schafer
---