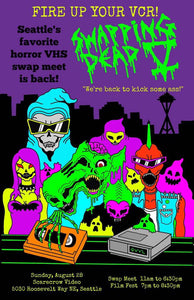 THE SWAPPING DEAD Pt. 5 VHS Swap Happens Sunday, August 28th in Seattle, WA at the One and Only SCARECROW VIDEO! Click for Details, Videovores!
Independently organized VHS swaps and screenings seem to be spreading like rewind-inclined wildfire, Tapeheads. Events like the annual Severed Horror VHS Collector's Unite convention, Lo-Fi Video's Buy or Die VHSwaps in L.A., the influence of Tape Eaters in the mid-west, and most recently, the Night of 1000 VHS hosted by Horror Boobs in Brooklyn, all indicate exciting and important times for modern day tape trading and VHS collecting culture. Cue the Pacific Northwest's answer to the burgeoning presence of tape swap and VHS-centric events: THE SWAPPING DEAD. Come Sunday August 28th, the SD crew will be launching their 5th installment of their VHS-driven swap and screening at the absolutely amazing rental store (and veritable cinema institution) Scarecrow Video in Seattle, WA.
The too groovy official flyer for SWAPPING DEAD V from radical rewind-inclined artist GVVL GRAPHICS! We'd hang with these groovy ghouls, no doubt.
All of the info for the SD5 is available
via the Official Facebook Event Page,
but here's the lowdown from the main brains at SWAPPING DEAD:
"The VHS renaissance continues with our 5th event! Seattle's most knowledgeable vendors of VHS horror are back with the gems you crave. Movies, magazines, books, figurines, t-shirts, soundtrack albums...it's all here in one place. Like Christmas in August. And during the event we'll be screening flicks on the big screen. And afterward we're having a mini film festival with guest speakers and surprises. Spread the word. And we hope to see you there. It's gonna be bitchin'!"
The show starts at 11AM and goes until 8:30, so best to get there early for for your chance to grab some radical slabs of analog glory!
Groove and Groove and Need 'em, need 'em, got 'em, need 'em!
Josh Schafer
---