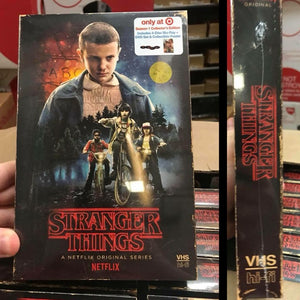 Netflix and Target to Release Exclusive STRANGER THINGS Season One BluRay / DVD Combo in VHS Packaging!
For many (okay, I'll say all) fans of contemporary horror, Stranger Things is a show that needs no introduction. Widely lauded by horror fans everywhere as being the near-perfect throwback thriller / horror adventure story that oozes with 80s aesthetics and clever nods to retro essentials, nailing that dose of nostalgia most everyone had been craving, Stranger Things is arguably the best thing to happen to mainstream horror in recent memory. And soon, in another tribute to its retro roots, Netflix will be teaming up with Target to release an exclusive Blu-Ray / DVD set of Stranger Things Season One in packaging that pays homage to another essential of the 80s retro world… the almighty VHS tape! You know we can dig it. The images below were pulled from the world weird web, and brought to our analog-inclined attention by Rev. Rod Lanham of Tape King and VHS is Dead.
It looks like these pics were snapped by a Target employee while inspecting the stock. Leak 'em if you got 'em, man!
The Target Exlcusive Blu / DVD set of Stranger Things Season One is said to be dropping on October 17th, 2017, with a projected price point of $24.99. Your best bet is to groove to Target's site, and see if they'll post up a pre-order sometime soon. That, or weather the stampede that's sure to spill forth as they start to put these bad boys out on the shelves. There is some disbelief and skepticism surrounding the legitimacy of the release, especially since these are just leaked photos, and neither Netflix or Target has mentioned anything about them. Only time will tell. We will say this: If this is a phony, fan-made image created only for the sake of some internet craze, we send out a solemn and tacit well-played nod to whoever is responsible. But we're hoping it's real. Now if only Netflix would release a real VHS version. A Tapehead can dream, man.
Groove and Groove and Rewind in The Upside Down.
Josh Schafer
---