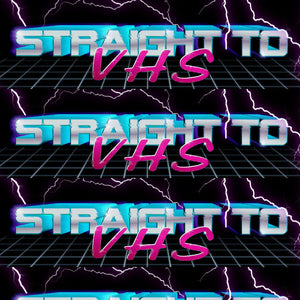 Create the Ultimate B-Movie with STRAIGHT TO VHS: A Table Top RPG from Lost Cat Games Designed with Videovores in Mind!
I'm going to go ahead and venture a pretty safe guess that there are more than a few Videovores out there who frequent Lunchmeat Land who also dabble in the world of table top RPGs (or have at least thought about it). If you're fitting this description, then you're in for a treat because the groovy rewind-inclined folks over at Lost Cat Games have decided to combine the essential aesthetics of outrageous and awesome video era flicks with the world of table top gaming in their new RPG, Straight to VHS.
The totally retro-radical logo for the Lost Cat Games table top RPG STRAIGHT TO VHS.
When I asked game designer Ryan Mellon what Straight to VHS was all about, he had this to say: "Straight to VHS is a little book filled with options for creating ridiculous B-movie heroes with unique strengths and weaknesses. We're talking cyborg cops, haunted preachers, sentimental wrestlers, ninja dogs and so on. Another player uses some rules and suggestions in that same book to create an over-the-top, VHS bargain-bin tale that the other players will have to smash, shoot and seduce their way through. In the end, everyone walks away laughing about the absurd, kick-ass movie that never was."
DON'T TOUCH MY COORS LIGHT, DUDE! Some radical concept art from STRAIGHT TO VHS from Lost Cat Games!
Sounds pretty rad, eh, Tapeheads!? I'm sure some of you are already sold, but maybe some others are still hesitant. After all, aren't role playing games a pretty big commitment? Well, this is where the real genius of Straight to VHS lies. The game was designed to be inviting and accessible for new players, and not to be taken too seriously, making it a perfect way to dip your toes into the world of RPGs, or introduce the concept to your friends for the first time.
A VHShotgun blast for yo' ASS!! DIG IT.
The latest version of Straight to VHS is available for free download from the website, so that means you can start playing right now, man! Yeah, just click this link, download the game, and you're in.
Bitchin' boombox, Werewolf dude! We'd party with this guy.
The game is already feature-complete, but Mellon says it is still a work in progress, and with plans for extra content and a crowd-funding campaign in the works for 2017, there is definitely lots to look forward to. In the meantime, if you want to get involved in the development process
you can leave feedback at lostcatgames.com
or
join the Straight to VHS subreddit at r/straighttovhs,
which hosts discussions and updates, and also organizes online games. So what are you waiting for, Videovores!?
Clickity-click
and immerse yourself in some totally absurd analog-inspired RPG insanity!
Groove and Groove and Don't Forget About Daemonsgate.
Ted Gilbert
---