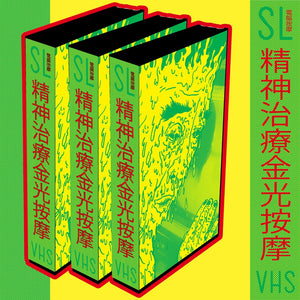 SECRET LAIR Gets Back in the Fresh VHS Mix with Three New Limited Edition Mixtape Releases!
Video mixtapes have been an integral piece of the fresh VHS movement since its inception, and continue to pervade the culture at an impressive rate (Take a look the list just from Halloween 2017, and you'll see). And if you're in the market for some brand-spankin' new and totally rewind-weird VHS mixes, we've got some groovy new for you, dude. One of the best in the business has come out of home video hibernation.
Over the years, Secret Lair was steady killing the VHS mixtape game with an assortment of mind-melting, brain-bending slabs of rapid fire, fantastically curated cut-and-clip content with titles like HEADCHEESE line, PIZZA BY THE SPLICE and I REMEMBER HALLOWEEN Volumes 1-3. If you were able to score those editions for your shelf, you'll know they're some slabs that add a particular spice to your collection. And now, the groovy crew at Secret Lair has emerged from their VHSlumber with three new themed video mixes which are now ready to invade your VCRs. These three fresh VHS from Secret Lair are super limited, and available exclusively via Secret Lair's online shop . CLICK HERE, MAN!
First up, it's another installment of the HEADCHEESE mixtape: a line that helped define SL's excellence in the contemporary mixtape game. Here's the official description from SL: First new Head Cheese mixtape in over four years. Black and white, and a real head scratcher. Just around 45 mins in length. Welcome back.
Bring on that heady(cheese) dose of rewind-weird. You know we can dig it.
The second new mixed-up slab from SL is killer in more ways than one, Videovores. Serial killer puns aside, here's the real deal description for the NOW THAT'S WHAT I CALL KILLING! Mix: Edmund Kemper themed mixtape, with a healthy dose of 70's era Now That's What I Call Rock. Around 45 mins in length. Comes in a white slip, with sticker labels, and includes a folded Tiger Beat style flyer, and four (4) "posse" old school paper stickers. Limited to 15 copies.
Can You Love the NEW mixtape? VHSources say YES!
Last on Secret Lair's new magnetic magic menu it's…. well, we don't really know. SL says: DON'T ASK. JUST BUY. Either way, it looks pretty rad, and some of the characters translate to "massacre," so that's always a good VHSign. Here's a peek at package…
Who couldn't use a little mystery massacre mixtape? Looks ooey-gooey good to us, dudes.
We're super-stoked to see Secret Lair return to the fresh VHS world with three new entries, and once you feed your VCR some of their rewindable wares, we think you'll feel the same. Only one way to find out, though: groove to their official webstore, and get a taste of their signature style of sliced up, sight-searing content. They got those tasty tapes, indeed, dudes.
Groove and Groove and Get in the Mix.
Josh Schafer
---