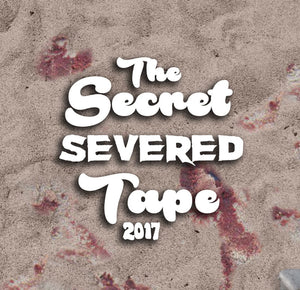 SEVERED SHORT FILM FEST AND HORROR VHS COLLECTORS UNITE SWAP MEET Happens this Saturday, May 27th! Click for all the Details, Tapeheads!
One of the most anticipated rewind-inclined events of the year is rapidly approaching, Tapeheads! This coming Memorial Day weekend, on Saturday May 27th starting at 12noon in Stroudsburg, PA at the Sherman Theater, it's the 8th annual SEVERED Short Film Festival and 6th annual Horror VHS Collectors Unite! Convention! For 6 years running, SEVERED has proven to be one of the premiere gatherings for Tapeheads, Videovores and fervent fans of underground cinema! Along with the all the fantastic film festivities, there will be a ton of VHS-vindicating vendors on-hand slingin' slabs of magnetic magic spanning the scope of cinema, with event-exclusive releases on fresh VHS from entities like Saturn's Core Audio & Video, King of the Witches, Uneasy Archive, Undead Video, Secret Lair, Druid Underground Film Festival, Trashmonger Video, and more, man! LUNCHMEAT will also be on hand with a table chock full of our classic VHS-obsessed goodies flanked by a few most bodacious VHSurprises exclusive to this year's Severed event that you just won't want to miss, dudes. Be sure to stay to tuned the Official Lunchmeat Instagram, Twitter and Facebook for sneak peeks some of the Severed exclusives and an always steady flow of VHS appreciation, celebration and preservation!
What's it gonna be this year, Tapeheads!? You gotta get to SEVERED and grab the slab to find out, man!
For the complete details on SEVERED 2017 including the full list of films, directions and ticket purchase info, click this here hot link that'll whisk you away to the Official Facebook event info. You can also visit the official Sherman Theater website for all the deets, man! Just 10 bones, and you're in the mix! Here's the official poster for this year's groovy VHS-drenched, cult cinema-lovin' festivities:
The Official poster for SEVERED 2017 designed by Earl Kess. It's gonna be an eye-poppin, analog-fueled day to remember, man.
In addition to screenings of BUIO OMEGA (Severin Films), DARK HARVEST (Intervision Films), JUNGLE TRAP (Bleeding Skull!) and a Secret Movie from Massacre Video, SEVERED will also be hosting their 8th annual Short Film Competition where one outstanding indie filmmaker will take home the coveted Audience Choice Award, an accolade decided by YOU! Here's a look at the Short Film Competition line-up for 2017:
The short film line-up for SEVERED 2017! Come on out, soak 'em in and cast that vote, dudes!
But wait! There's more, man! There will also be an all-new installment of The Museum of VHS curated by Matt Desiderio, Earl Kess, Louis Justin, Josh Schafer and Chad Viera! What's The Museum of VHS? We're glad you asked! The Museum of VHS is a curated exhibition created to establish an informative, educational and fun nucleus of VHS and video era appreciation, celebration and preservation. The purpose of The Museum of VHS is help represent the vibrant aesthetics of the video era and communicate the many facets of cultural change and historic influence it brought about in its relatively brief, yet massively impactful existence.
Matt D. of HORROR BOOBS contemplates a view of the MUSEUM OF VHS from last year's SEVERED event!
For the VHS collector and fans of video era culture alike, it's surely a spectacle to behold. You can view previous installations of The MoVHS on the official
Museum of VHS website.
So, in case you haven't noticed, this coming weekend is going be a total blast, Tapeheads! SEVERED will be bringing together bundles of VHS collectors and genre film fans from across the country to bask in piles upon piles of rare, obscure and just plain insane VHS tapes swirling around an atmosphere of cult film appreciation and fandom. It's gonna be one groovy time, dudes.
GET THERE!
Groove and Groove and VHSee You in Stroudsburg, Videovores!
Josh Schafer
---